Hello everyone, it's Danielle with Quoddy Link.  Today's post is going to be a little bit different as we had quite the experience yesterday and I am going to do my best to share  it with you all.  So, here it goes…..
It was a foggy day and when we are searching for minke whales in the fog it can be difficult.  Really, we simply move slowly through areas where minkes typically like to feed and we keep the communication with the other boats.  With no luck in the Islands Captain Mat decided to take us off towards Bliss Island to see if there was any visibility and maybe some whales up there.  We were not in the area for very long before Jolinne and Nick on the upper deck spotted a minke whale.  When we got a closer look we immediately noticed how small the whale was (our best guess would be 10-12 feet) and the behaviour we were seeing was unusual.  The whale would arch quite quickly and do a "terminal dive" but when he would resurface he would almost rest at the surface and bring the entire front part of his head, his rostrum, out of the water to breathe but not continue to dive, just sink back below the surface.  We immediately thought it was odd but also knew it was a young whale and wasn't sure if he was just being curious.  It wasn't until we managed to get a closer look and then the behaviour made sense….the whale had line wrapped around its lower jaw and the line extended down, most likely anchored or weighed down on the sea floor, he was entangled and it was very serious.
When we find a marine animal who is in distress or dead we immediately call MARS, the Marine Animal Response Society at 1-866-567-6277 and they have all of the contact information for any help that may be needed, in this case they contacted Mackie Greene with the Campobello Whale Rescue Team (CWRT).  We know Mackie well but it is always best to contact MARS first because they will most likely be able to get in touch with the CWRT before we ever could.  And this is where our part really comes in and when the emotions run high….it's our time to Stand By
To stand by, to wait for whale rescue to arrive is so very important to the entire operation.  It's not easy to stand on the boat and watch a young whale struggle to reach the surface to take a breath but without proper training someone could do more harm than good.  So by standing by we keep a close eye on the whale without adding any stress, with our height advantage of the upper deck we could get a clear view of the entanglement and be able to relay that information to the whale rescue team and we also had to ensure we did not lose the young whale in the fog!  I'm not going to lie, the thought crossed all of our minds to jump in that calm water and help that whale, to cut that rope any way we could but we know to leave that to the pros, it would be so easy to do more harm than good even with the best intentions at heart.  So we waited….and watched…and photographed….and Nick even sketched an image incase the CWRT wanted to have a look.
I won't keep you in suspense much longer, Mackie and his team arrived and they were able to get into position and cut the line and free the young whale in under 10 minutes.  When the line was cut all we saw were quick and strong flukeprints at the surface, a sign that the whale was free and swimming quickly out of the area.  The entire encounter, from finding the whale and calling MARS to the release took less than 2 hours, which is incredibly quick!
I have photos that I want to share from today….
The following photos show the way the minke would surface, struggling to take a breath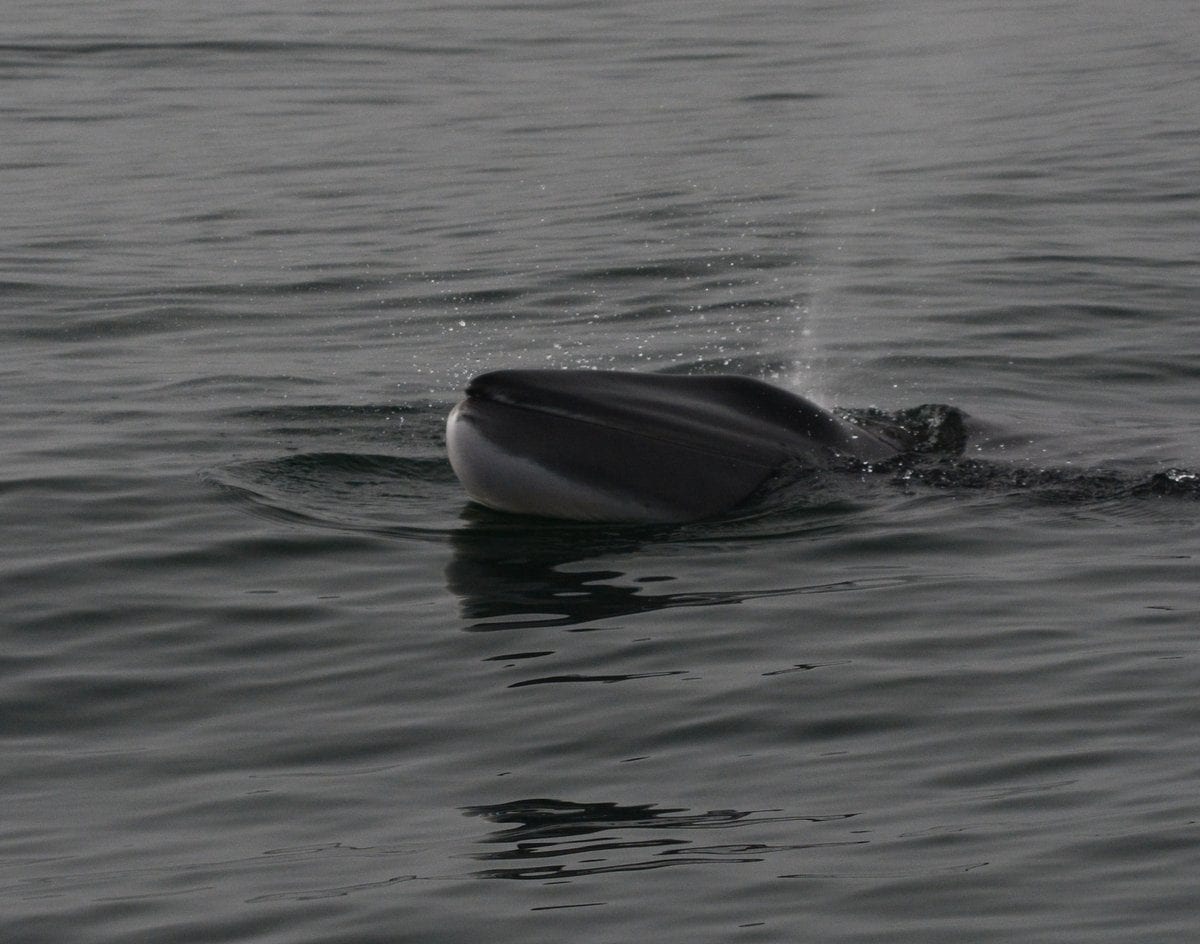 The following photos show the line in the mouth, it was wrapped around the lower jaw.  You have to look closely and the line is dark cream in colour
The following 2 photos are on the opposite side of the boat so the lighting changed and you can see the whale very well.  You have to look close to see the line in the left hand side of the whale's mouth
I can't even begin to say thank you enough to our passengers who were more than willing to stay out and stand by that whale!!  You all played just as much of a role in this as we did!  SO THANK YOU!
And Thank You to the Campobello Whale Rescue Team (and IFAW for sponsoring them) and the Marine Animal Response Society for all that you do!!  Thank You isn't enough…you guys all ROCK!!
Thank You for taking the time to read more about this disentanglement.  I also did an interview with Shift NB on CBC radio and I will share a link soon,
Cheers,
Danielle and the Quoddy Link crew