Hello everyone, I know this is starting to sound "regular" for our sightings but it is NOT….we had another amazing afternoon with north Atlantic right whales! We had word that maybe the rights had moved back South into the Bay of Fundy but our captain decided to look for himself, and as the tide had turned he decided to take a run offshore….and are we ever glad he did. We found a mother and calf right whale pair about a mile inside of South Wolf first, we saw them once but choose to leave them be and make our way further out. Here are some shots of the cow and calf pair (1 of 21 calves born in the world this year).
UPDATE: Mom has been IDed as Legato RW#1802, and is actually a NEW mom and calf to the population….so that makes 22 calves for the 2011 season!!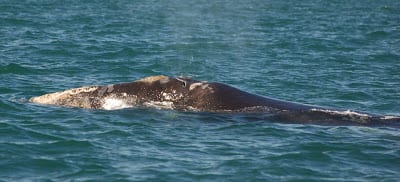 Mom
As we made our way past South Wolf Matt started see lots of blows a few miles ahead so we slowly made our way out. There must have been ~15 right whales out there this afternoon, including a small SAG or surface active group….enjoy some more pics
Thanks for checking in today….no one can know for sure how long these rights will be close enough for us to see them out of St. Andrews….it has been such a privilege to seem them every day!
Cheers,
Danielle