Hello everyone. it's Danielle with Quoddy Link Marine back for another season and I will be bringing you all of our sighting from the our trips on the Bay of Fundy like always.
Today was such an interesting day, a day of ups and downs with wildlife watching and a reminder of how dynamic of an environment the Bay of Fundy is.
Our morning trip took us off Bliss and Blacks Harbour where we spent time with (thanks to a friendly call from Fundy Tide Runners) 3 finback whales, including a mom and calf pair! This was our first good look at finbacks this season and our first mom and calf pair of the 2011 whale watching season. Below is a picture of the finback off Blacks Harbour (unfortunately I was unable to get any pictures of the mom and calf pair today)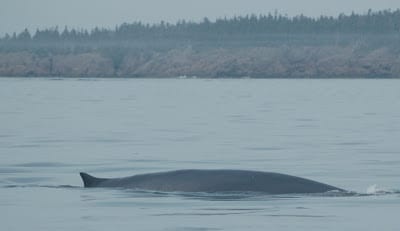 This afternoon we were unable to find any whales to show our passengers, the tide had turned and was now on the ebb and we knew we would have to do some searching and with the other whale watching companies from in town staying in the in shore areas John decided to take us offshore to search…and search we did, we made our way all the way east of Swallowtail Light off Grand Manan but were unsuccessful. We did see quite a variety of seabirds (petrels, razorbills, murres, shearwaters), a bald eagle, porpoise and seals but because we didn't see any whales this time of the season we do offer our passengers a voucher for a free trip to come with us again.
We will have to see what tomorrow brings,
Cheers,
Danielle