Hello everyone, we had 2 trips today…lots of field trips for schools to go whale watching this year. On our 10:00 am trip we found ourselves between South Wolf and Bliss with 4 large finback whales. It was great to spend some time with these powerful whales and we got some amazing looks.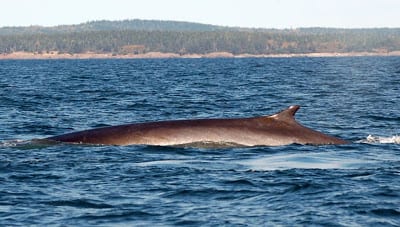 Our afternoon trip took us to the Grand Manan Chanel on the ebb tide in hopes of seeing some humpback whales. When we arrived there were some other whale watching boats with a pair of finbacks so we traveled further into the chanel to looks for humpbacks…..but no luck. We made our way back to the fin whales closer to the Campobello shoreline and the 2 whales were so great to watch and we had some great close looks at the ~50 foot whales. With a tip from the Grand Manan Ferry that there were reports of humpbacks towards South Wolf a few hours ago we decided to take a run over and on our way John picked up a humpback whale (he did a partial breach so made it easy to see!). We quickly ID'ed the humpback as EKG and even though EKG was doing ~10 minute dives we still got some great views.
Here you can see the characteristic upturned fluke tips of EKG.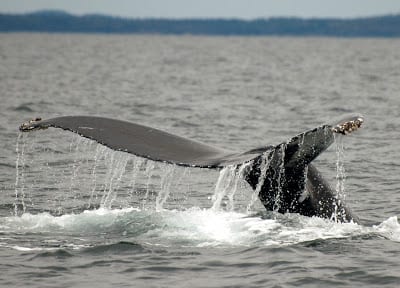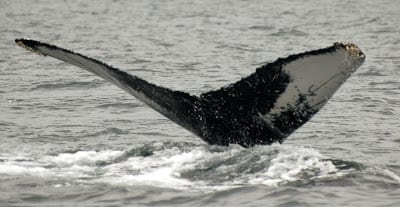 Thanks for checking in today, there is some not-so-great weather in the forecast for tomorrow…we will have to see what happens.
Cheers,
Danielle