Hello everyone,
We were able to get out whale watching today…yesterday we were confined to St. Andrews harbour due to high winds, it is to be expected with the change of seasons. This afternoon we made our way directly offshore in search of humpbacks. The wind had picked up some out of the SW but nothing serious and with a boatload of eager passengers we made our run offshore, and talking with some other boats who were already out there (including Matt on our Scout Boat) we knew there were humpbacks about 16 nm from home.
We were able to document 2 humpbacks (there was at least 4 or 5 there), Cork and Meristem. There were also a number of funback whales in the area as well.
This is Cork, a 7 year old female and the 2002 calf of Mica. I know the picture isn't great but it is enough for an ID. We also saw Cork on Thursday but before that the last sighting was on September 5th, it's so great to see her again!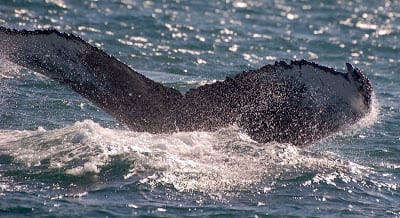 This is Meristem, a juvenile we photographed for the first time last season as an unknown and was just named last spring. We also Meristem on the 24th of September.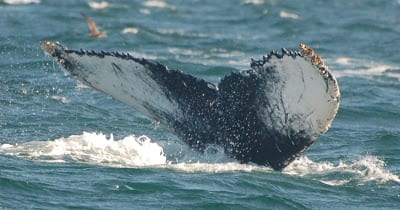 They are calling for some wind tomorrow but we are hoping we can still get our afternoon trip in…the wind isn't suppose to come up until the evening.