Hello everyone!! I'm going to keep this a little bit shorter this evening, I'm a little tired…
On both trips today we had fin whales and humpbacks. On our 10:00 am trip we spent time with a young humpback whale that has yet to be matched to an individual in the catalog.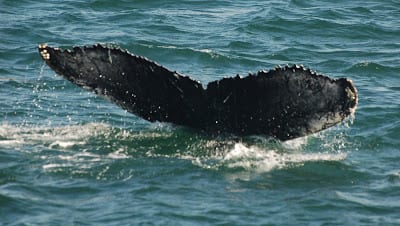 On our 2:00 pm trip we saw Cork….and I think she came to see us. We have had a number of trips over the past few years that Cork has shown some interest in the boat. We have been watching this young whales since 2004 (she's now 7) and she wasn't always curious, it's really just the last 2 years that we have really started seeing this behaviour from her. Below is a photo that Jolinne took, our other naturalist on board the Quoddy Link, she was on top of the wheelhouse on the upper deck.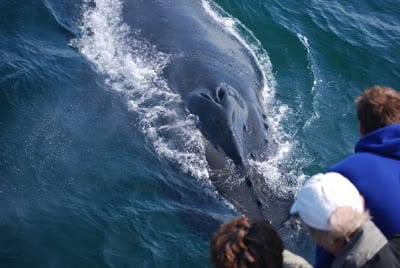 Below are photos that I took from the lower deck.
We did not have any sightings of right whales today. It was windy (15-20 SW) so there may have been some around but the weather wasn't appropriate to go searching. I will keep you posted on the right whale news.
Cheers,
Danielle