Hey everyone, well, we had another great day and with 3 trips today I am a little tired but I wanted to make sure that I shared some of the highlights of the todays trips with you.
This morning our trip started off with a great sighting of Cork, a 7 year old female we are so fond of at Quoddy Link (on our evening charter with NBCC we were lucky enough to see a full breach from Cork not far off the boat). We got some amazing looks at Cork as she approached the boat quite close. The photos below are from today, you can see her eye in 2 of them and the bottom photo shows her raising her tail in front of the Quoddy Link.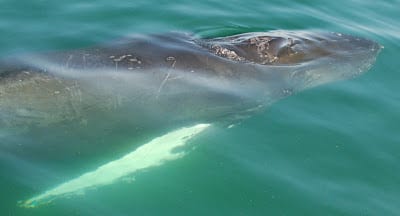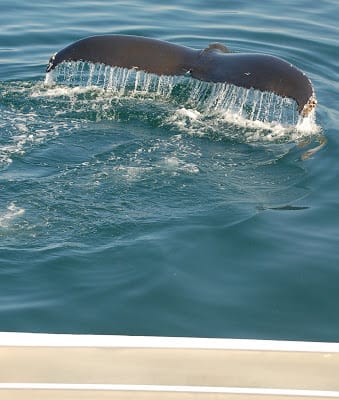 The fin whales we AWESOME today and their power never ceases to amaze me. On both the 10:00 am and 2:00 pm departures we had the chance to see groups of fin whales all surfacing together, sometimes 5-6 whales all at the same time….and then another group on the opposite side of the boat. Below are 2 photos from the 10:00 trip, a fin approached us and then decided to turn, you can see the tail out and the pectoral flippers….they are so flexible.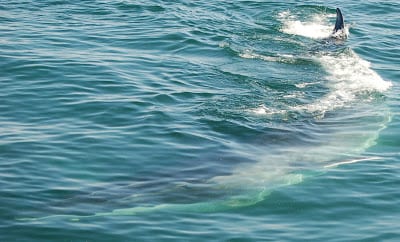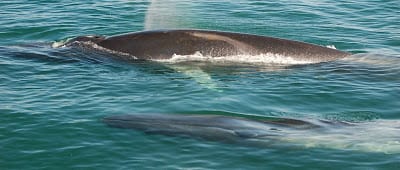 On the 2:00 pm departure we also had a sighting of a new humpback to the area for the 2009 season, this is Arrowhead! Arrowhead was first documented in 1976 we saw him in 2007 off the Wolves!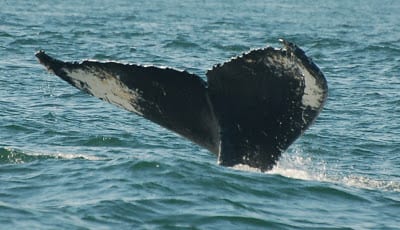 Our 2:00 pm trip came with some very special right whale sightings. We stopped first with a right off Nancy's Head, a photo of the head of the whale is below.

We had another right whale surface not too far and as the whale raised it's tail I quickly recognized Tips, NARW #1124, an adult male of unknown age who was first seen in the Bay in 1980. We have seen Tips a few times this season and he is great to see. He often blows bubbles under the water which makes it very easy to see where he will surface again, and this is the 3rd time we have seen him where he has shown curiosity in the boat. Below is a video from today…It is taken from the lower deck of the Quoddy Link, I was standing on a bench so I could shot over top of our passengers heads. I think their excitement says it all!!
I wanted to attach this photo I took this morning of a pomeraine jaeger, we have been having some great seabird sightings and the jaegers are out in good numbers.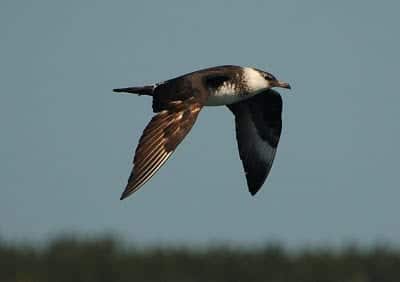 Thanks so much for checking in today!
Cheers,
Danielle