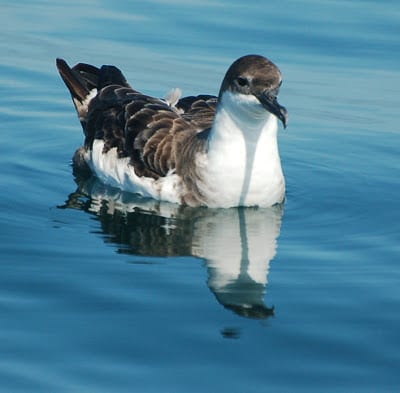 All I can say is WOW, this will be one of those days that I will never forget. Our 10:00 am trip started with the young humpback we saw on August 25th and 4 fin whales inshore but the boat traffic quickly increased and John made the decision to head offshore in search of more whales. We headed around the Owen Basin but there were no blows to be seen (we were thinking on the ebb tide we may find humpbacks in the Grand Manan Channel). There was word of right whales showing up inshore as well….but inshore means boat traffic so we headed over towards the Wolves still looking. Then we spotted a few blows and saw 2 tails come up! We thought they were humpbacks and made our way over….we were wrong, they were North Atlantic right whales!! We counted 5 close by and could see many more blowing to the east (right whales have a unique V-shaped blow). We even had a right whale breach close by! A conservative count would be 15-20 in total!! Below are some pictures of the right whales from the 10:00 am departure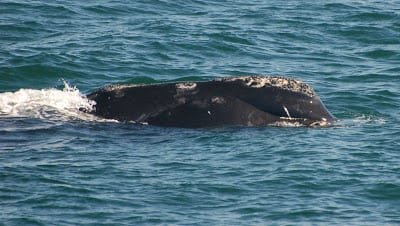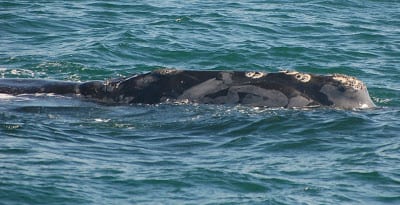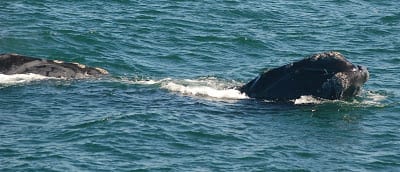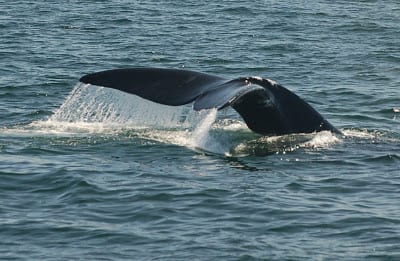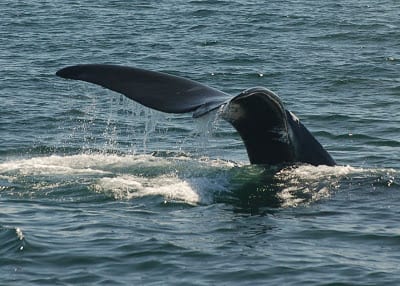 While we were out off the Wolves we spotted a humpback whale, who turned out to be a new humpback to our area and ID'ed as the 2008 calf of Touchdown by Jooke Robbins at the Provincetown Center for Coastal Studies in Provincetown, MA. The fluke is pictured below.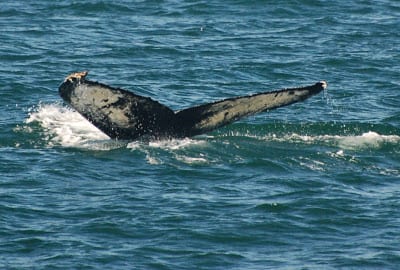 On our way back to St. Andrews we stopped with 2 pairs of fin whales and the same humpback we originally stopped with on our way out. Oh yeah, on our way back before we got to the fin whales we saw a shark breach 2 times!! WHAT AN AMAZING TRIP!


Our 2:00 pm departure started in much the same way, boat traffic around a young humpback. We stopped quickly and got a nice shot of the fluke (pictured below) before moving offshore.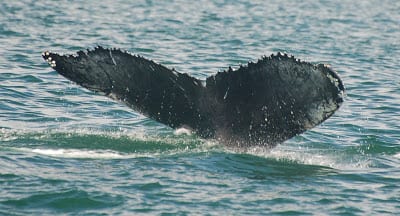 We made our way towards the Wolves again and found a few right whales and a humpback (most likely Cork but no tail shot) but all of the whales were doing some long dives (well over 10 minutes) so we worked our way back towards Campobello and found another right whale who turned out to be Tips, NARW#1124, an adult male of unknown age who has been seen in the Bay of Fundy since 1980! Right whales are ID'ed by the callosities on their heads as well as unique scarring (like that on the tips of Tips fluke). The photos below are of Tips taken today.
Our 5:30 pm departure started off of Nubble Island with a pair of finback whales…we did see a humpback blow and arch close by but we never spotted it again. After some nice looks we made out way off the mouth of Head Harbour Passage where we spent some time with a North Atlantic right whale. The picture below is from this evening. We also spent some time with a couple of fin whales up Head Harbour Passage.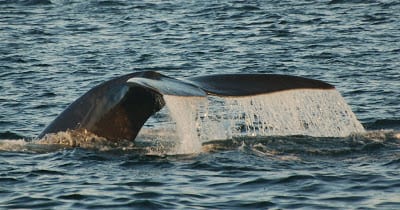 What an amazing job I have…and I know it and I realize how lucky I am. Today, we spent time on all 3 departures with the rarest large whale in the world, the North Atlantic right whale. The world wide population is estimated to be 350-400 individuals. It was a privilege to experience what I did today…wow….what a day!
Cheers,
Danielle