Hello everyone, what a great day we had!!
This morning we ventured out into the open Bay of Fundy off of Southern Wolf, we had gotten a call yesterday from the Grand Manan Ferry (we were not out on the water but the call was to a cell phone) that they had sighted 3 humpbacks and a North Atlantic right whale off the Wolves. With good visibility and OK sea conditions John took us right offshore. It took a few minutes and some good eyes but we saw a few blows…..one turned out to be a finback whale and the other, a crticially endangered North Atlantic right whale! What a privilege to be able to share with our passengers, with only an estimated world wide population of 350-400 it was awesome to see one today! We were able to see the whale a number of times, it was fluking so high….AMAZING! I do want to mention this was a very special sighting, not only because these whales are critically endangered but usually we have to go an addition 17 miles (we were already 16 miles from St. Andrews) to be in a area where we can see right whales…it was very special! We were able to stop with a pair of finback whales off Bliss Island on our way back into St. Andrews.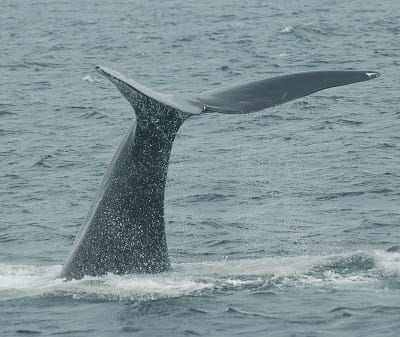 Here you can see the callosities, the roughened pataches of skin on the head of the whale (in the same place where you find male facial hair). Researcheres use the callosity pattern to ID right whales.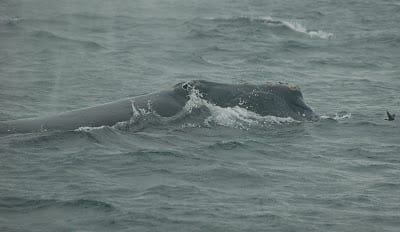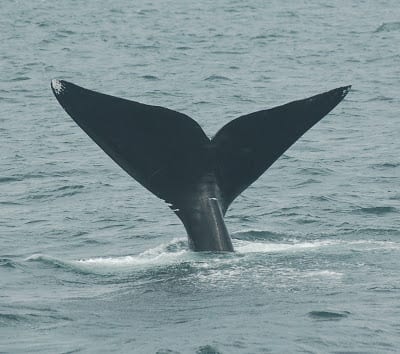 Our afternoon trip took us back offshore where we found a humpback whale who turned out to be Cork (with a tail shot today!). Cork, being Cork, showed some curiosity with us and also with Fundy Tide Runners, a fellow whale watcher out of St. Andrews who also made the trip offshore. It was so great to see this young female that we have become so attached to at Quoddy Link, she is a very special whale who I adore!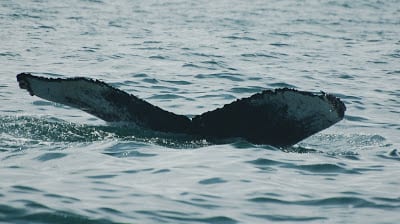 You can see Cork coming in for a closer look at the Quoddy Link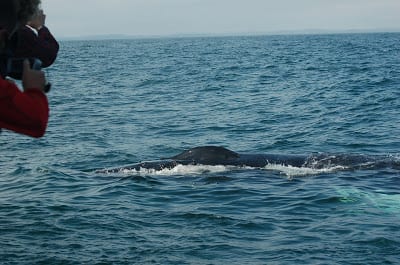 The weather forecast is good for tomorrow…hopefully I can report more great sightings!
Cheers,
Danielle