Hey everyone, what a frustrating few days we have had….fog….we can't control the weather but it would be nice if the fog would go away! Today there was still thick fog in the offshore area but the inshore stayed mostly clear, at least better than the past few days. We were able to watch minke whales on all 3 departures today and we even had a lunge feeding minke in the Old Sow on our evening trip!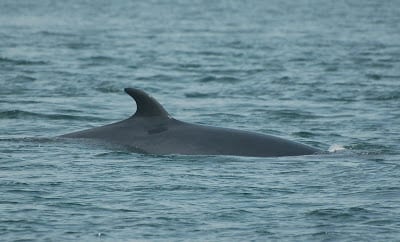 The best part of today was to see all of the life in Head Harbour Passage, sometime when we have spring tides (big tides on a new and full moon…not in the Spring) the whales can be more difficult to find and we see fewer birds and porpoise. We are coming off of a big tide and the life was fantastic today…so many porpoise and the birds were incredible! The seabirds we saw in or at the mouth of the Passage today are:
– Gulls (herring, greater black backed and Bonapartes)
– Arctic terns
– Phalaropes (by the hundreds….confirmed by T. Dean of the Huntsman Marine Science Centre)
– Jagers
– Shearwaters (greater and sooty)
– Wilson's Storm Petrels
– Northern gannets
– Cormorants
– puffins
– guillemots
Below is a photo from yesterday of some phalaropes.

I wanted to share a photo of a aquaculture site that we visited on a special charter. We are not stopping at salmon farms as often this year because most of the sites in our area are part of a management area that are laying fallow (empty) this year as part of a 3 year rotation to help clean out under the cages of organic matter and keep all of the salmon in one area the same age class.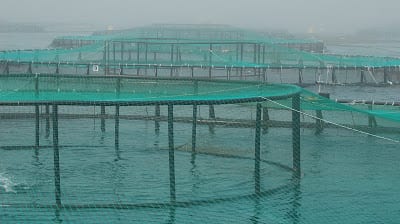 Thanks for checking in today,
Cheers,
Danielle