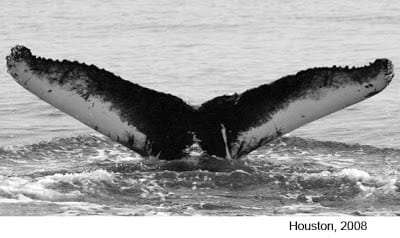 Hey everyone, I just wanted to let you know that the first humpback of our 2008 season now has a name. I'd like to introduce Flicker (named for "White mark in center looks like a candle with a flame").
There was another unknown whale that I mentioned in the last post that I had the chance to name but my vote of "Excavate" was not selected, the group went with "Bulldozer". And because of some issues with spelling and pronunciation, there is another whale that is up for naming and my suggestion is in the lead right now. I will post more info if my name gets chosen.
Don't forget to suggest any names for this young whale. This is the 2007 calf of Six and we spent some time with this baby in the 2008 season. Naming will continue for about 2 weeks.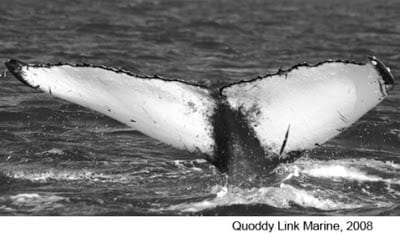 Thanks for checking in today, Have a safe and happy Easter weekend. Cheers!