Hello all! It's Danielle with Quoddy Link Marine sending you an update all the way from Gatineau, QC. I hope that everyone had a safe and happy holiday season and welcomed the New Year with your friends and family.
Now, down to business and the reason for the update. It's that time of year again, the time for the North Atlantic Humpback Whale Naming Event 2009. It's just in the beginning stages and we have lots of time to think of some great names for the unknowns that we photographed in the 2008 season. The humpbacks below are those that are up for names (and, like I said, it is still in the beginning stages and these individuals still have a chance at being matched in the catalogue).
So how this works, if you are new to the blog, is that humpbacks are named based in the black and white pigmentation on the underside of their fluke. There are rules…..
– the name must be short
– it should be descriptive about the whale's fluke pattern, body scars or other identifiable feature
– it cannot be gender specific
– it cannot be a person's name
– it cannot duplicate another name on the list
I will give you a hint, researchers like to use the dominant, positive black pattern on the fluke as opposed to any negative white markings. Be creative and send me any suggestions!
This humpback was our first of the 2008 season, the 2 photos below are from the same individual.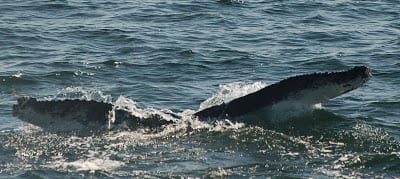 This young whale also needs a name and was also seen by Provincetown Center for Coastal Studies in the southern Gulf of Maine earlier in the season.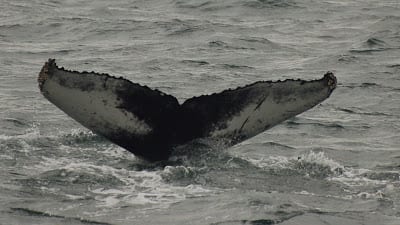 This is a baby and only a year old. This is the 2007 calf of Six, and because we saw and photographed this young whale it is now up for naming!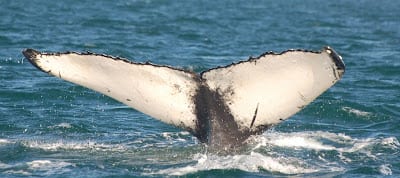 This young whale needs a great name…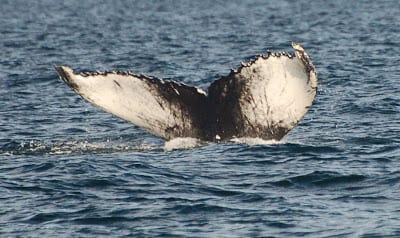 And this young whale needs a great name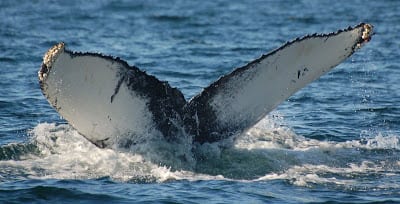 This is a very special whale that is also up for naming. This was was severely entangled and successfully disentangled (THANK YOU Mackie Greene and the Campobello Island Whale Rescue Team) in the Bay of Fundy off Grand Manan in December/07. Our sighting of this young whale was the first time "he" was seen since the entanglement and although he is still healing he is still swimming and that is more than we could ask for.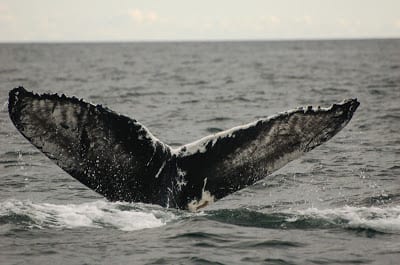 Thanks for checking in today. If you keep your eyes on any nature news you probably hear about the North Atlantic right whale sighting off Faial Island in the Azores. The whale was positively IDed as RW# 3270 who was last seen in the Bay of Fundy on September 24/08.
Thanks again for checking in! Please, if you are interested, send some suggestions for the names for the whales, you have a couple months but we need some great names for these whales!