Hello everyone, it's Danielle with Quoddy Link. We were back on schedule today with our regular whale watching and both trips were fantastic. On our 10:00 am departure we had what we call a "hat trick", showing our passengers all 3 species of whales commonly seen in our part of the Bay of Fundy. We had 3 finback whales between Bliss and Blacks and then we made our way offshore to see if we could find a humpback whale….and we found Mustache! Mustache was staying down for 8 minute dives so after 3 series we made our way into the islands where we found 2 minke whales.
Our afternoon trip started in amongst the islands with 2 minke whales and John decided to head offshore (our Scout Boat was out, had not relocated Mustache yet and there was a finback whale inshore but there was a lot of boat traffic being a holiday weekend). We found Mustache travelling doing some shorter 3-4 minute dives but not raising "his" tail unless he was going down for a longer dive (timed at 11 minutes each).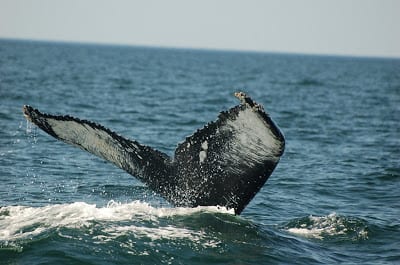 It was great to see Mustache on both departures today. They are calling for some wind over the next few days but I will keep you posted in the weather and Mother Nature! Cheers.