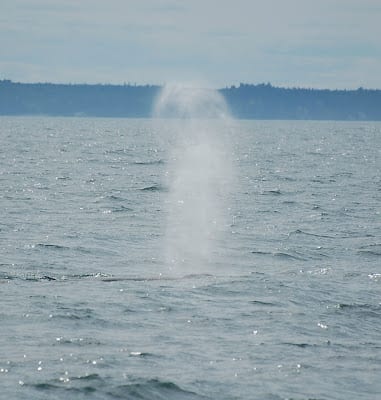 Hello everyone, it's Danielle with Quoddy Link back from a gorgeous day out on the Bay of Fundy….and by gorgeous I mean no fog! We were so happy to be able to pass Parker Island and see the open Bay of Fundy ahead of us, and with unlimited visibility we were hoping for a great day of whale watching.
On our 10:00 am departure we found a finback whale not far from Bliss Island, we spent some time with "him" but "he" wasn't the easiest whale to watch, staying down a long time and making some big moves. We also found a more cooperative minke whale among the islands.
Our 2:00 pm departure took us back to the same finback whale, passed on from Fundy Tide Runners, another whale watching company out of St. Andrews. The whale was being even more difficult to watch and with a few other boats around we decided to head out further. We made our way to Southern Wolf Island were we found 2 finback whales! They were both staying down for 8 minutes between dives but they would surface very close to where they went down so they were great to watch.
On 5:30 departure we found a nice size minke whale off Whitehead Island then we made our way back to Southern Wolf to search for the pair of finback whales. We found them and it was well worth the trip! They were still staying down for about 6 minutes between dives but they were not moving very far at all and when they did come up we could follow them just under the surface of the water by watching their footprints (flat circular patches on the surface of the water caused by the fluke moving up and down).
Below is a video taken on our 5:30 trip.
Right after I shot the video above Matt, our captain, pointed out that we could see the pair of finback whales on our fish finder (they are the red and yellow long skinny objects in the middle)! They went right under the boat and I wanted to share that with you.
I have also included photos of all 3 finback whales we saw today. The top photo was the finback we saw on our morning and afternoon trip. The bottom 2 are from our afternoon and evening departures.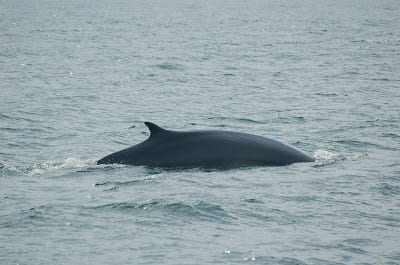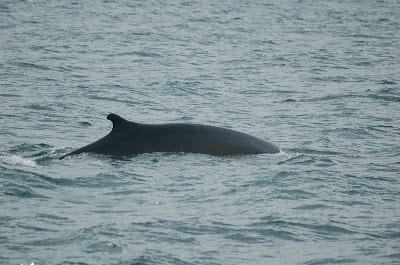 Thanks for checking in today. Hopefully the nice weather will hang around for a while! Cheers.