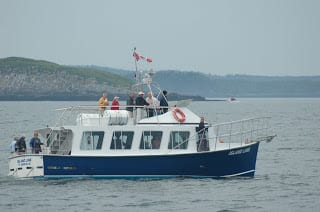 Hello everyone, it's Danielle back in St. Andrews and back with Quoddy Link Marine. Yesterday was my first day on the water and what a great day it was. On our morning trip we had minke whale, it took a little patience to locate and watch "him" but it was certainly worth it. On the left is a picture of the Island Link (our other vessel used mostly for charters) helping us search for the minke whale. We also had a fantastic bald eagle sighting, 2 mature adults looking as majestic as always.
Our afternoon trip took us a little further from home. With a call from the Grand Manan ferry of a possible whale sighting just off the Wolves (an archipelago of Islands about 15 nm from St. Andrews that I am sure you will hear me talk a lot about this summer) we headed straight out. We looked for about 10 minutes with another boat we work cooperatively with out of Grand Manan and with some very experienced eyes of our captain we located not one but a pair of finback whales! It turned out to be a fantastic sighting. This was our first sighting with passengers but on Wednesday, June 25th our Scout Boat was out and did find a finback whale off Bliss Island but at that point the Quoddy Link was on their way back to port…but not before they spent time with a breaching minke whale!! John, our owner and captain, who was on the Scout Boat made sure that the finback whale sighting didn't go un-noticed and he called the other boats who were out also looking for whales and Fundy Tide Runners was the first to arrive followed very shortly by the Jolly Breeze (both very friendly competition).
I tried to take some video today of the finbacks but with the 10 knots of SW, well, lets just say I need more practice but here are some pictures of the whales. Note the difference in the dorsal fins. This is one of the ways that researchers can recognize individual whales, but more importantly they use the subtle white markings on their backs called a blaze and chevrons.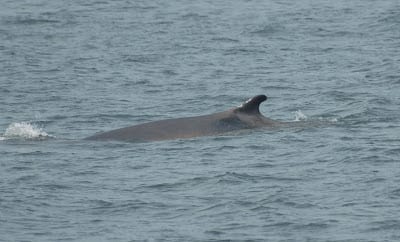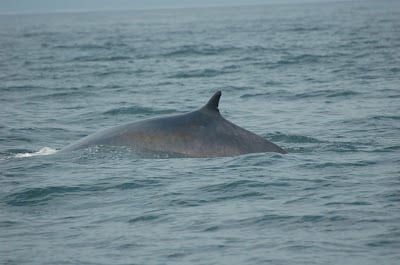 Some exciting news on two humpback whales we are familiar with at Quoddy Link Marine. Both Spinnaker (seen in 2007) and Sonogram (seen in 2006) were sighted by Blue Ocean Society on Jeffreys Ledge (Jeffreys Ledge is a long, winding, relatively shallow area which stretches from the coast of Rockport, Massachusetts to just southeast of Cape Elizabeth, Maine). Thanks for checking in and keep in touch for more sightings from Quoddy (and I'll see what I can do about getting you some video!)