Hello everyone, it's Danielle with Quoddy Link Marine back for another season. This will be my 7th season working for Quoddy and I'm so happy to back again!
This year, like in the past, we will be recording data (both photographs and latitude/longitude data) on all of the whales that we see. This data is then shared with a number of different organizations both in Canada and the United States (Grand Manan Whale and Seabird Research Station (Grand Manan, NB), Provincetown Center for Coastal Studies (Provincetown, MA), Allied Whale (Bar Harbour, ME) and our friends across the bay at Brier Island Whale and Seabird Cruises (Brier Island, NS)). By assisting in whale research (most notably humpback photographic identification) we are helping researchers at Provincetown Center for Coastal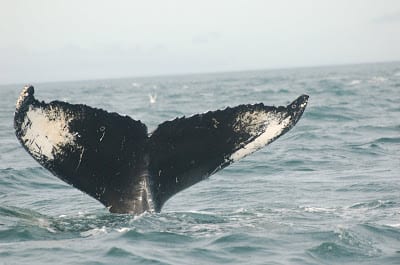 Studies learn more about the population as a whole. I will be photographing every whale we see on each and every trip (humpbacks are easier to tell apart due to the unique pigmentation on the underside of the fluke, this is Arrowhead seen in 2007 on the left). There are certainly times when I miss a shot and I ask our passengers to email me their digital images to help with the research (also if you would like some tips on photographing whales please feel free to ask).
Come and Quoddy Link Marine during our 2008 season and be a part of our research. If you have any questions please feel free to contact me at danielle.m.dion@hotmail.com.