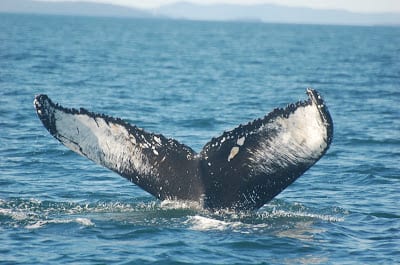 Hello fellow whale watchers! It's Danielle back from a fun day on the Scout Boat. My goal today was to get some photos of the Quoddy Link and some of the whales we have been watching all season. It was a gorgeous day on the water, with 3 humpbacks (Mustache (left), Cork and Hobo) and 5+ finback whales. From what I heard the guests on the Quoddy Link also got a close look at a small school of bluefin tuna! One of the highlights of the trip was when Cork came very close to the Quoddy Link and from the reactions of our naturalists, Louise and Melanie, it was AMAZING! It was so calm and sunny today, with fantastic visibility in the water you could see all of the humpback whale, she even poked her head out (spyhopped) to have a closer look at the boat!
Below is a photo of the Quoddy Link and Mustache.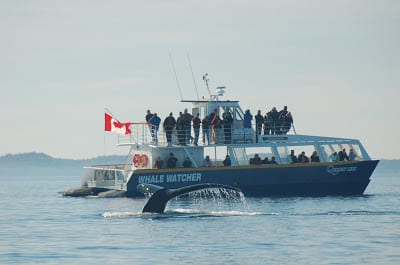 On our way back into St. Andrews John stopped off the northern tip of Campobello Island to have a look at 3 finback whales that we travelling together and while they were very close to the boat one of the individuals decided to roll over and bring his tail right out of the water! Below is the Quoddy Link with a pair of finbacks taken today off Campobello Island.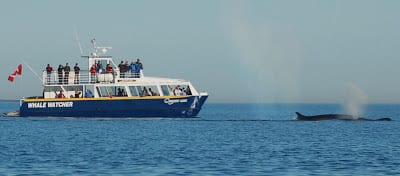 Thanks so much for checking in with us today. I'm leaving you with a photo of the Quoddy Link returning to beautiful St. Andrews after a great day out on the Bay of Fundy.