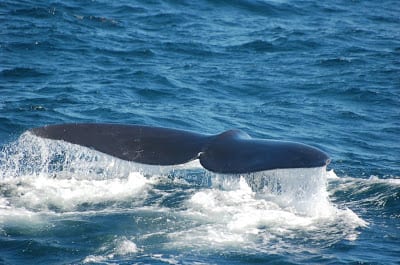 Hello everyone, it's Danielle with Quoddy Link Marine back from another great day on the Bay of Fundy. This morning we had the first of our special North Atlantic Right Whale trips which took us about 37 miles from St. Andrews out into the open Bay of Fundy in search of these critically endangered whales. On our way out we did pass a few finback whales and stopped to see Mustache, a humpback whale. Our sightings of the right whales were fantastic and probably the most special part was that we had 2, if not 3 cow and calf pairs! The image below shows one of the calves bringing it's rostrum out of the water with its mouth wide open (note the baleen plates hanging down). This calf stayed close to the surface and didn't move far from the boat while its mother was down feeding.
Below you can see a mom and calf diving together. Note the smooth, triangular flukes that are characteristic to North Atlantic right whales.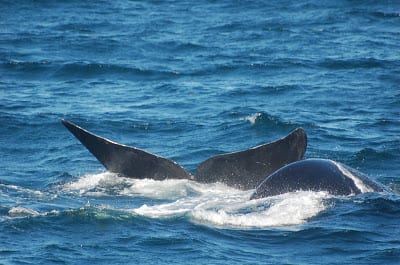 On our way back to St. Andrews we got the chance to stop with 3 finback whales who were travelling side by side. I want to thank our passengers who joined us on this very special trip, everyone did great with some lumpy sea conditions! If you are interested in our next right whale trip it is on September 30th at 7:30 am (1-877-688-2600).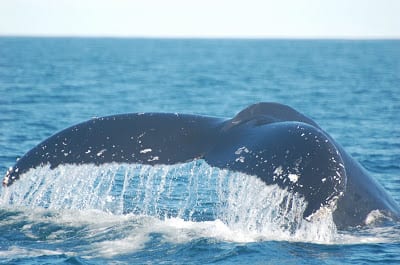 Our afternoon whale watch was great as well. We left St. Andrews at 2:30 and headed offshore to find Mustache, the same humpback we had this morning (left and below). We followed him for about 15 minutes doing almost 5 knots and taking us further and further from home. John decided to turn around and look for some other whales. We found a few finbacks as well as EKG, another humpback we have been seeing over the past few days. EKG breached (jumped fully out of the water) 2 times! It was fantastic. The picture on the bottom shows the splash from the second breach (and a pectoral flipper if you look closely)!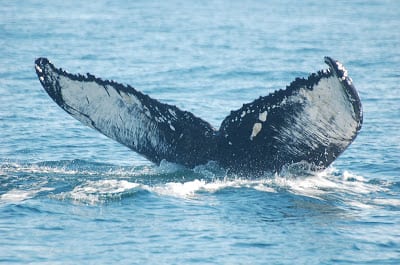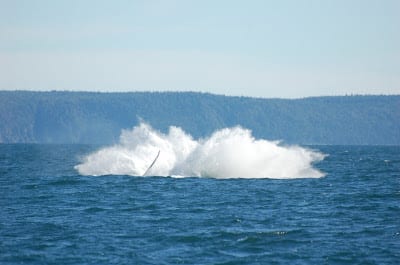 Thanks so much for checking in today. I'll let you know how everything goes tomorrow, another early morning with 2 charters and a whale watch in the afternoon. Cheers 🙂