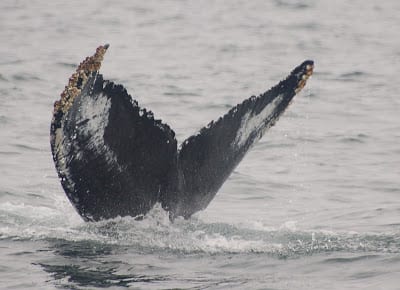 Hello everyone, it's Danielle with Quoddy Link Marine back from a great late summer day on the Bay of Fundy…it definitely feels like autumn is just around the corner. We had 2 great trips today. Matt was able to leave before 9:00 am on our Scout Boat to check out the offshore area, it had been a few days since we had seen humpback whales. Yesterday we did take a run offshore on the afternoon departure in search of humpbacks but were unsuccessful (we did find a few finback whales though!). We had much better luck today. Matt let us know as we were leaving the wharf on our 10:00 am departure that he had Hobo about 17 nm from St. Andrews so we made our way directly offshore. We had some great sightings with lots of tail shots. We also had a large finback whale while we were off the Wolves. On our way back to St. Andrews we stopped to see some bald eagles and had at least 7 eagles on one small island, both mature and immature!
As we were making our way back offshore on our 2:00 pm John let us know he had 2 finback whales ahead of us that were charging around a high speeds. These immense whales are the fastest of the large whales, able to do about 25 knots in short bursts and WOW, did we ever see their power today. There turned out to be 3 finback whales, and one had so much speed when he came out of the water his entire head came out, you could see the entire jaw line and everything…it was incredible. At one point they must have been doing 20 knots! Below are 2 photos, the amount of white water shows their speed.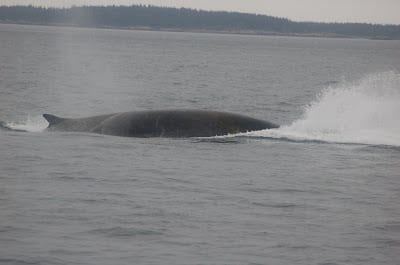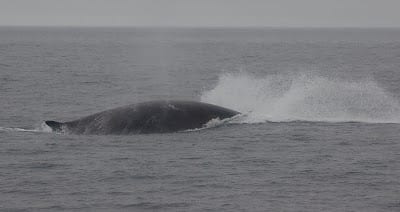 We also go to spend some time with Hobo again before the fog rolled in. Below is a photo I took on August 26th but I wanted to share with you why Hobo was named Hobo. Humpback whales are given non-gender specific names based on the unique pigmentation on the underside of their flukes. Researchers will look for one obvious black mark….and then use their imagination. It's a lot of fun, I had the opportunity to go to the 25th Annual Gulf of Maine Humpback Naming Workshop in Provincetown, MA. If you take a look at the photos below and look at the lower right hand side of Hobos' fluke and you will see a black vertical line….now use your imagination…..you can see a stick figure with a bag slung over its shoulder….just like a hobo!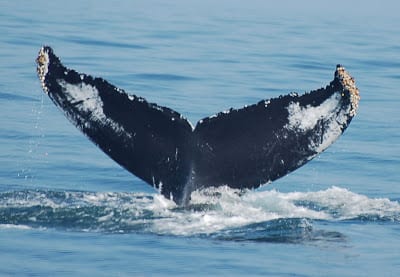 I've enlarged the right hand side of Hobos' fluke so you can get a closer look at the marking.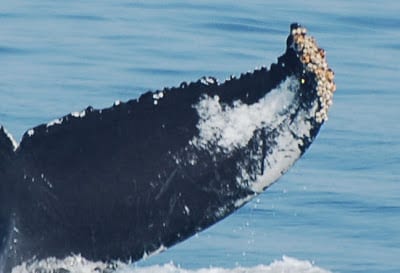 I also wanted to mention that we had very large numbers of harbour porpoise, schools with more than 30 individuals today!!
Thanks so much for checking in….and keep checking for more updates from Quoddy Link Marine.