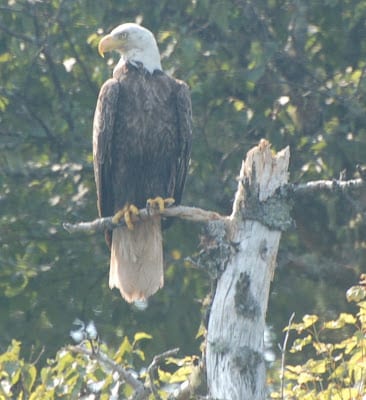 Hello everyone, it's Danielle with Quoddy Link Marine. I'm very sorry for the lack of posts during the past week, I have had a few days off to do some travelling of my own throughout this beautiful province. Things here with Quoddy have been spectacular. The whales continue to amaze us. With finback whales moving from the Blacks Harbour shoreline towards Campobello and remaining inshore and when the weather and the tides co-operate we do get offshore in search of humpback whales. We are still seeing both Cork and Hobo, 2 humpbacks we are very familiar with but they are still not showing much consistency with their feeding and travelling patterns.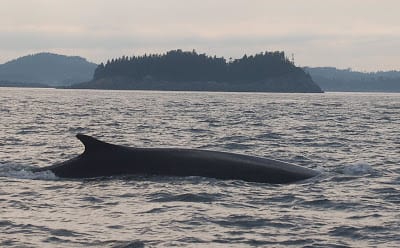 Here is a photo I took on our 5:30 cruise last night of a finback whale just outside the Fundy Isles. This whale is approximately 50-55 feet long, the length of the Quoddy Link, our whale watching catamaran!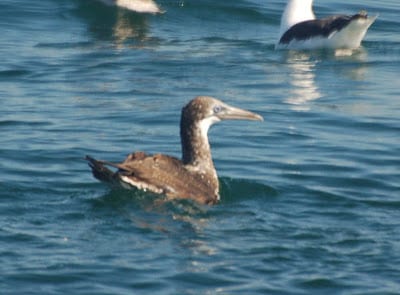 The bird life has been absolutely GREAT this year. With the large amount of herring in the water we have seen more northern gannets than I can remember seeing in my past 5 years with Quoddy. The majority of the ones we see are in various stages of juvenile plumage.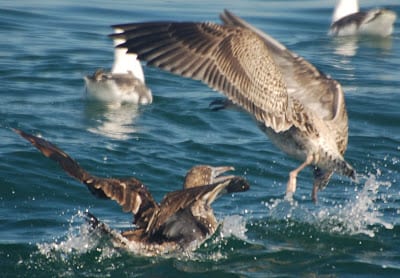 Here you can see a northern gannet confronting a young gull. All of the birds and most of the marine mammals in the area are feeding on the same food source, herring and krill.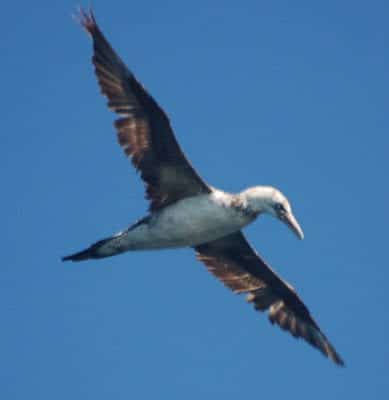 Here is a northern gannet getting looking for a fish and getting ready to plunge dive. Gannets are one of the only birds with binocular vision, they can look forward with both eyes. They also have air sacs in their head and neck area that inflate before they hit the water to protect them from the impact.
Below is a terminal dive from Cork, a 5 year-old female humpback whale. Many whales do not raise their tails on their terminal dive but humpbacks do (one of the many reasons they are a favorite among whale watchers). When they raise their tails they are telling is who they are, the black and white pigmentation is different on every, individual humpback whale. If you have a look at the right hand side of Corks' fluke you will see a black mark which looks like a mushroom cap or a plastic wine cork, that is how she got her name….."Cork".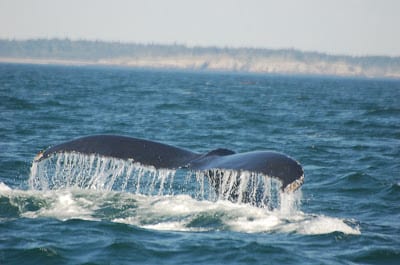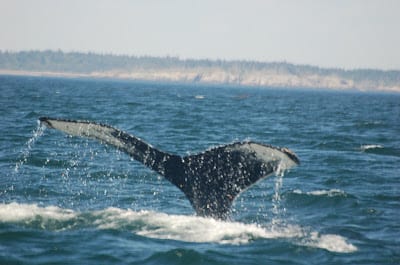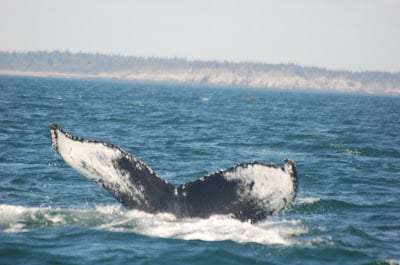 Thanks so much for checking in, I will continue to keep you posted on all things Quoddy.