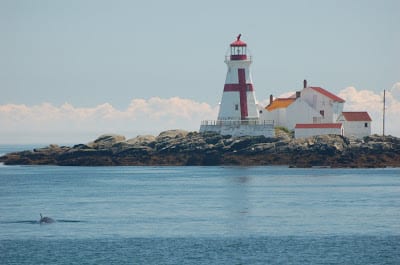 Hello everyone, it's Danielle with our sightings for July 3rd and what a gorgeous day it was. Today was my day off so John (captain and owner) and myself left early on our Scout Boat in search of the humpback we saw yesterday, and even though we weren't able to locate her today (not for lack of trying, we covered at least 25 miles) we had a great day on the water. On both our 10:00 and 2:00 departure we spent time with a familiar finback whale. I hopped on the Catamaran after our 10:00 passengers had spent time with the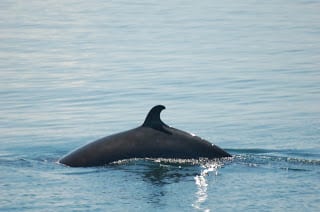 finback whale and we made our way over to Head Harbour Passage where we found a minke whale. The picture above you can see a minke whale with East Quoddy Head Light and a more close-up picture of the minke whale below. This is a minke we at Quoddy Link are familiar with but is my first time seeing this season. Minke whales can be identified by their uniquely shaped dorsal fin.
Thanks for checking in, I'm back at work tomorrow and I will be sure to keep you posted on all of our sightings.