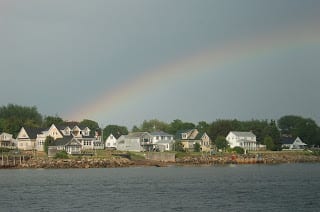 Hello again, it's Danielle with Quoddy Link Marine. I thought that I would share some more "Frequently Asked Questions" with you, these ones all about the whales…
Can we touch the whales?
NO, we don't touch or feed the whales, we can't "call them with a whistle", and most likely we don't even know right where they are when we leave St. Andrews. The whales, as well as the seals, porpoise and all of the other animals we see, are wild. It is their home, and they go where they want. Sometimes the whales do set up patterns, and this can make them much easier to find. We do have a "Scout Boat" which can leave before our trip and help search for the whales.
How close will we get to the whales?
Honestly, we can't answer that before we leave, because these are wild animals but the most important point you must know is our captains are very experienced (over 12 years on the water with whales) and they know how to position the boat so as to give you the best view of the whales. You always want to travel with the whales, letting them lead the way, so they can change direction when they want, and you never want to be in a position to cut a whale off. When we view these animals we must respect their boundaries and stay a safe distance away, it is so important for their survival. It is very important to note that Quoddy Link Marine is a signee to the Bay of Fundy Whale Watchers Code of Ethics (
http://www.bayoffundytourism.com/environmental_leadership/code_of_ethics.php
).
Will the whales "jump"?
This is a very common question. The act of jumping or "breaching" out of the water is an awe-inspiring thing to see, but it doesn't happen on every trip. The most common whales that breach in our area are humpback whales, usually seen in August-October in our part of the Bay of Fundy.
Will the whale raise its tail?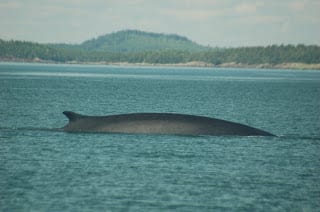 Another very common question. Not all whales raise their tail. Humpback whales will most likely raise their tail on their terminal dive (whales will usually do a series of dives and then arch their back and dive deeper, this final dive is called a "terminal dive"). Finbacks, the second largest whale in the world and much larger than humpbacks do not typically raise their tail. Finback whales can reach lengths of over 70 feet and weigh more than 180,000 lb.
Why is that whale all alone?
Baleen whales, like humpacks, finbacks and minke whales are commonly found alone or in small, unstable groups. These groups form and may stay together for a few days, a few weeks or only a few minutes. It is very common to see a humpback whale travelling on their own. Humpback, finback and minke whales are here in the Bay of Fundy to feed and nurse their young, you don't see the large groups like you would on breeding grounds. The Bay of Fundy is an important feeding, nursing and courting ground for the North Atlantic right whale, who can often be seen in large aggregations, known as surface active groups or "SAG's". We usually do a few right whale trips a season, taking a limited number of passengers 30-40 nm from St. Andrews out into the middle of Bay of Fundy in search of right whales. Please keep in touch if you are interested in our special right whale trips.
OK, that's all for now, if you have any questions of your own please feel free to send me an email. Keep in touch and read more about Quoddy Link Marine and our adventures on the Bay of Fundy, or better yet come and join us and experience the Bay…..Catamaran Style.