Hello, it's Danielle back with Quoddy Link with some more pre-season information. I wanted to start a series of posts that cover a bunch of FAQs or "Frequently Asked Questions" that our guests ask while either on the boat or before they book their tour.
The first question…What do you do in the winter?
It's a very common question so I'm going to share a little of what John Eldridge, our captain and owner and myself did this winter.
John had the opportunity to spend 5 weeks in the island paradise, Dominica while on working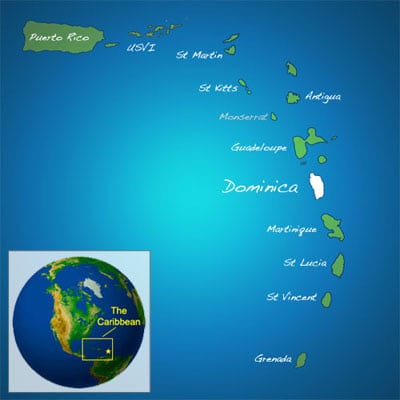 assignment. Dominica (pronounced Dom-in-eek-a) sits midway along the Eastern Caribbean archipelago, just a few miles from Martinique to the south and Guadeloupe to the north. The island is sparsely populated with around 70,000 people inhabiting its 289.5 square miles. A significant portion of the population lives in and around the capital city, Roseau. Dominica is an arcadia of unspoiled nature. Tropical forest coats two thirds of the island, which nourishes 1,200 plant species. Rivers, lakes, streams, and waterfalls abound, fed by the islands high annual rainfall. Its volcanic physique points to extensive geothermal activity above and below sea level.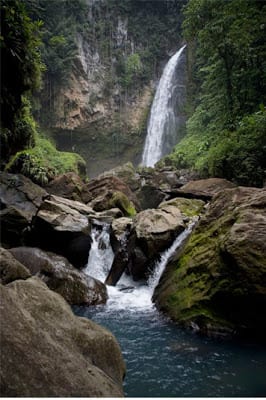 While on the island John had the chance to see sperm whales! Sperm whales (Physeter macrocephalus) are the largest living toothed animal in the world. Sperm whales got their name from the from the milky-white substance (spermaceti) found in it's head originally mistaken for sperm. The function of the spermaceti and the organs it fills is still largely unknown but three strong hypotheses exist: to control buoyancy, to aid in echolocation and for male-male combat.
Sperm Whales are amongst the most sexually dimorphic(that is, males and females differ greatly) of all cetaceans. Males are typically 30%–50% longer (16–18 m) than females (12–14 m) and are twice as massive (50,000 kg vs. 25,000 kg, ). At birth both males and females are about 4 m (13 feet) in length and mass of 1,000 kg.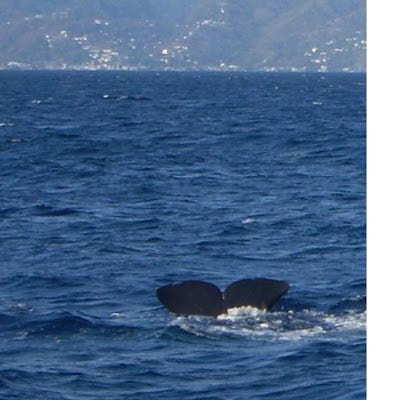 This is a photograph that John took while in Dominica of a sperm whale, note the large, triangular flukes. In the background you can see the capital city of Dominica, Roseau.
As for my winter, I have been spending most of my time in Ottawa, ON. I currently have a job at at Natural Pet Foods (http://www.naturalpetfoods.ca/), a small, family-owned store specializing in holistic pet foods (including kibble, canned, raw and pre-mixes). I did have the chance to take a vacation with my boyfriend to Kissimmee, Florida. While down south we had the opportunity to snorkel with manatees, Trichechus manatus, in Crystal River. The population of Florida manatees is endangered, with numbers estimated at 2000-3000 individuals. The number of deaths is increasing each and every year, with most being attributed to ship strikes. All of the manatees I saw had scars from boat propellers on their backs.
Manatees are herbivores and an adult will consume about 9% (50kg) of their body weight a day in plant material. They will eat over 60 varieties of plant species and can weigh over 500 kg.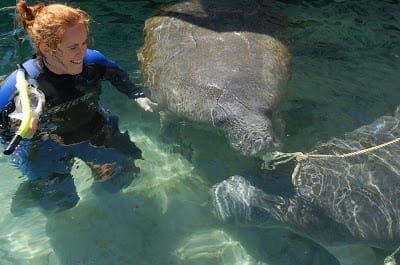 This image shows me in the water with 2 manatees. These manatees are wild, living in Homosassa and Crystal River, 2 warm, spring fed rivers. The tour we went on operated by Captain Joe (http://www.fun2dive.com/) was fantastic. We had the chance to learn about manatee manners, evolution and behaviours before we entered the water so we knew how to swim safely with them, it's their home, and their comfort and safety came first. The larger manatee here is actually chewing on a rope that is hanging off the side of the boat.
Here are some more FAQ's that are asked….
Should we bring binoculars?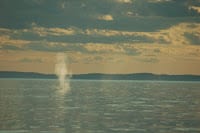 Yes, but binoculars are not great for watching whales, they are mainly used for looking at stationary objects like seals on rock and bald eagles in trees. We do use binoculars when looking for whales in the distance. When looking for whales we have to look for blows, or "spout", which can be seen from a few miles away on a clear day. The best advice we can give is bring your binoculars if you would like, but when we are watching whales, put them down and use your eyes, otherwise you will miss a lot of the experience.
Can we bring our camera?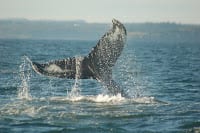 OF COURSE! But when photographing whales, the best advice I can give is when we get there, put your camera down and just watch the whales, learn a bit of their behaviour, and don't spend the entire trip looking through your view finder or at your LCD screen, use your eyes, take in the experience. When on the boat I can offer some advice on photographing the whales as well.
What should we wear?
Layers, layers, LAYERS. We can't stress this enough. Even if it's beautiful and warm on land in St. Andrews please bring warm layers (coat,pants, sweatshirt….hat and mittens even, it's cold on the open Bay of Fundy). There is no quicker way to ruin a trip then to be cold and we do have some blankets on board but please dress warmly. Also, sunscreen is essential, when on the water to get hit twice, once from the sun, and again from the reflection off the water.
Is there a bathroom on the boat?
YES, there is a modern, electric washroom on the Quoddy Link.
Is there a snack bar on the boat?
No, there is not a snack bar on the boat but feel free to bring along a lite snack, or even a small cooler. It is a good idea to at least bring along a bottle of water. Please, no alcohol, we are not licenced. We do provide free hot chocolate and a small taster, to give you a flavour of New Brunswick.
How many passengers are there on the boat? How many guides?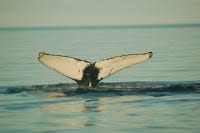 The Quoddy Link hold 47 passengers and 3 crew but actually there is room for over 60 passengers, the numbers are kept down for comfort and viewing. There is a large upper deck that can hold 2o people, seating runs down the middle of the boat so on the lower deck everyone can stand at the sides and have a clear view out an open window. It's essential that the windows open, to hear the whales and smell, yes…SMELL them, is all part of the experience. There is covered seating for 47, and the windows can be closed, so in case of rain, EVERYONE will stay dry.
There are 3 crew, 2 guide and 1 captain, aboard the Quoddy Link, all with first aid and all crew take a Marine Emergency Duties coarse.
Are young children and babies safe on the boat?
Definitely, the boat is fantastic for families. We do ask that all children are accompanied by an adult when on the upper deck, and on the stairs, at ALL times, and there is absolutely no running allowed on the boat. The Bay of Fundy is big and we must respect it, so please be safe. We do have first aid but we don't want to have to use it. If someone gets hurt we may be over an hour from port, so again, please be safe. As for infants, you are more than welcome for bring a stroller on the boat, there is plenty of room.
Do you go out in the rain…fog….etc?

Rain, yes, the whales are already wet, they don't care if it's raining. Fog….it depends. Some seasons the whales will set patterns and we can locate them relatively easy in the fog. Sometimes the fog will clear in areas where some whales are and sometimes it's just TOO foggy. Thunderstorms, NO. With all weather, our captain will make an informed decision (sometimes going out to check on the weather in the open Bay of Fundy with our Scout Boat) about 30 minutes prior to departure. The weather can change very quickly on the Bay of Fundy and it can also differ greatly from St. Andrews to where we have to go to see whales. Feel free to call the day before for a weather outlook but again, no decision will be made until 30 minutes prior to departure. We thank you in advance for your patience if weather becomes a factor.
Well, that's all for today, keep in touch for whale FAQ's, and we'll see you soon. We hope you choose to come and experience the Bay of Fundy…..Catamaran Style with Quoddy Link Marine.
Sperm whale information from www.wikipedia.com