Hello Everyone, it's Danielle back again with Quoddy Link Marine. I hope everyone out there had a great winter and I'm sure most of you are looking forward to some warm summer weather as much as I am. I am sorry for the lack of postings over the winter, I'm currently living in Ottawa, ON. Well, with the summer season quickly approaching there is some news that I would like to pass along.
First I want to take some time to introduce you all to three humpback whales that we spent a lot of time with in the 2006 season that are no longer "unknowns". Each spring, whale researchers and tour operators get together to name unknown humpbacks (humpbacks that have not been sighted in previous years) as well as new calves that have been sighted for the first time away from their moms (they don't give the calves official names until they are sighted on their own the following year). The "Gulf of Maine Humpback Naming Conference" was held this year on April 7th in Essex, MA. The following three whales can now be known as: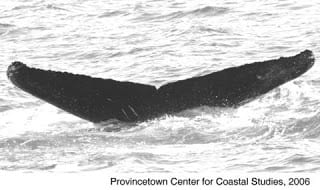 Due (pronounced DOO-ee) for the 2 straight white marks on the left hand side of the fluke. Due is Italian for 2.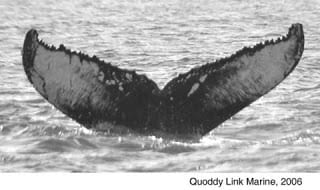 Mustache for the obvious white mark on the left hand side of the fluke.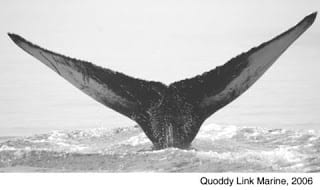 EKG for the black marks on the lower right hand side of the fluke that resemble an EKG reading.
We will keep you posted if these humpbacks are re-sighted again this summer in our part of the Bay of Fundy
Some GREAT news related to the Bay of Fundy, New Brunswick's Musquash Estuary has been officially designated a Marine Protected Area (MPA)!! The Musquash Estuary, located 20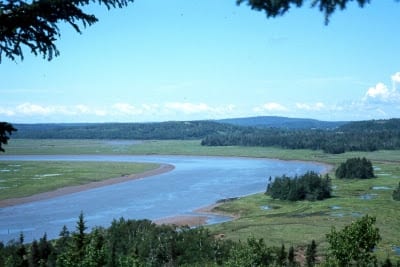 kilometres west of Saint John, is the last largely intact and relatively pristine salt marsh in the Bay of Fundy. The designation of an MPA will mean an end to coastal development in the area and a ban on aquaculture. Both measures are designed to ensure that the salt march continues to serve as important habitat for birds and sea life. (Information from WWF – Canada and Photograph by David Thompson)

On a much sadder note, a North Atlantic right whale that was known in the Bay of Fundy was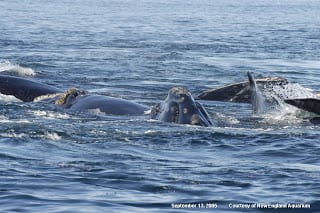 found dead on March 25th, 2007 on Crowell Basin, 75nm SW of Yarmouth, NS. Right whale (RW) #1424 has been a known entangled case for over 5 years, first sighted entangled on February 12, 2002 off the coast of Florida. RW #1424 was last seen alive, still entangled but apparently healthy on September 13, 2005 in the Bay of Fundy. Here you can see RW #1424 in a SAG (surface active group) of over 50 individuals.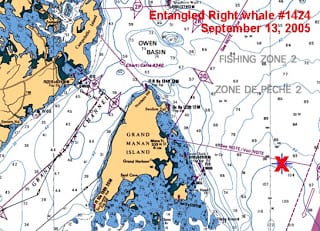 Here is the official record for RW #1424 in the Bay of Fundy on September 13, 2005.
This is the sketch of the entanglement, essential for researchers and rescuers, in order to make a plan on how to proceed with the disentanglement attempts.
That's all for now, please keep checking for future updates, our season will begin the June 23rd, so if you are planning a trip to St. Andrews by-the-sea, visit Quoddy Link Marine, and experience everything the Bay of Fundy has to offer……Catamaran Style.