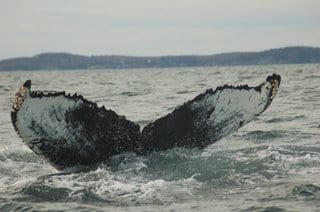 Hello everyone, it's Danielle with Quoddy Link Marine. We headed out on October 17th to do a small survey of the whales that are in our area of the Bay of Fundy. Consistent with the sightings of the past week, we were not surprised to find the very rare North Atlantic right whale in the Grand Manan Channel but we were surprised to find a single right whale right off East Quoddy Head Light and another single right whale off Nancys Head, Campobello Island. We found 5 individual right whales in total and, on our travels around the Owen Basin, we also found a familiar whale, Cork, a 4-year old female humpback (above). On our way back we thought we would stop by the northern tip of Campobello Island at East Quoddy Head Light to see if that right whale was still around. To our surprise we found not 1 but 3 right whales about 1/2 mile south-east of the Light. The 3 whales came together in a small SAG (surface active group, a courting behaviour seen with right whales on their summer feeding/courting grounds). We are reporting our sightings to Fundy Traffic so the word can get out they we have right whales in an area where large ships carrying cargo often travel. The data is also being donated to help the fight against LNG in Passamaquoddy Bay.
Thanks for checking in!! We are planning, weather permitting, to have one last whale watch on Saturday, October 21st. I will keep you posted!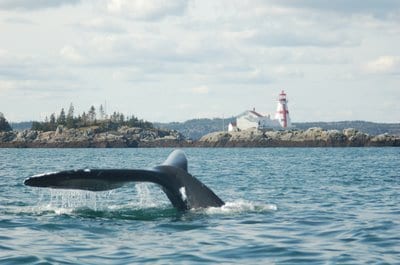 Above, a North Atlantic Right Whale directly off East Quoddy Head Light, the northern tip of Campobello Island.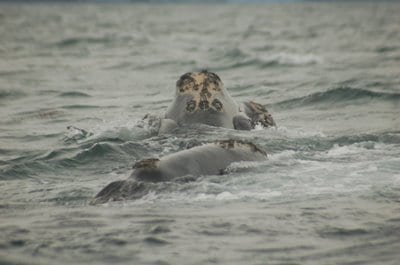 Above and below, right whales together in a surface active group, known as a SAG.