Hello there, it's Danielle with Quoddy Link Marine. Well, the crew of Quoddy Link and our passengers have had the priveledge of watching the incredibly rare North Atlantic right whale on our last 3 whale watches, including our trip on Saturday, October 14th which was a very successful fund raising trip to support the fight to stop LNG tankards and terminals from entering Passamaquoddy Bay. We saw right whales on all 3 trips in the Grand Manan Channel. We usually have to go about 35-40 miles from St. Andrews to see right whales but in the fall we often have the pleasure of watching them a little closer to home. Such an amazing sight, to spend time with whales whose numbers are less than 350 world wide.
Thanks for reading and thanks to all who joined us on Saturday to help with the fight against LNG in Passamaquoddy Bay. Quoddy Link Marine is planning on doing one last whale watch next Saturday, October 21st, at 11:00 am. I will keep you posted!
The unique V-shaped blow of the right whale.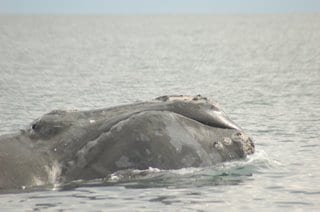 The right whale has a very high mouth arch. The roughened patches of skin on the front of their head are called callosities, and they are in unique patterns for each right whale and are used to identify individuals.