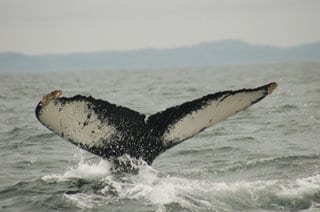 Hello, it's Danielle with Quoddy Link Marine. We are coming up on the end of September and we still have humpback whales in the bay. Yesterday, September 22nd, we remained inshore with a minke whale on our 10:00 am trip but with the ebb tide and a drop in winds we headed out to the Grand Manan Channel in the afternoon. When we arrived we found our "unknown" humpback (the series below is from yesterday). "She" became active and our passengers were treated to 2 tail breaches. As we were watching this humpback we saw 2 more blows down a little further in the channel. As we went over we found both Parachute (above) and Cork. A great afternoon!
Today came with a weather warning but with calm seas and no rain yet we headed directly out to the Wolves Banks on our 10:00 am trip. On our way out we found both Parachute and Cork, 2 humpbacks we have become very familiar with and the sightings were fantastic, with close approaches from both humpbacks. The forecasted winds arrived in the afternoon but had a very nice trip inshore watching a minke whale.
Thanks for checking in, they are calling for some serious winds tomorrow but I will keep you updated on our sightings.