Despite the forecast of strong winds and fog we had a good with great sightings of both a finback and a humpback whale. We spent our 2 trips today with Repeat, a humpback whale. Also on our 10:00 am trip we saw a minke whale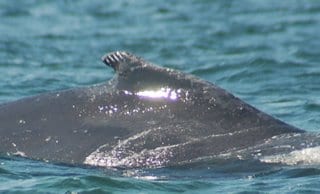 in Head Harbour Passage and on our 2:00 pm departure we had a finback whale off Bliss.
Here you can see Repeat's dorsal fin. Notice the white "rake" marks. Speaking with humpback researchers at the Provincetown Center for Coastal Studies (PCCS) they believe these marks are from an orca attack during the calf year. We have been seeing Repeat for the past week now and PCCS told us that Repeat hasn't been seen since 2004 off Massachusetts. These pictures were taken yesterday, when the sun was shining. With the mist and weather today I didn't take out my camera and just enjoyed with my eyes. Keep watching for more updates.