Hello everyone, I hope that 2013 has been treating all of you well! We are starting to get excited about the upcoming whale watch season that begins at the end of June and in anticipation we are running a contest on our facebook page. It's a simple "Like and Share" contest so all you do is:
1. "LIKE" the Quoddy Link Marine facebook page
2. "SHARE" the contest photo
3. That's it, you are entered to win a pass for 2 to come on a whale and wildlife cruise with Quoddy Link Marine. Make sure your privacy settings are set to PUBLIC or just comment on the photo that you have "liked and shared". A winner will be randomly selected on on April 30/13.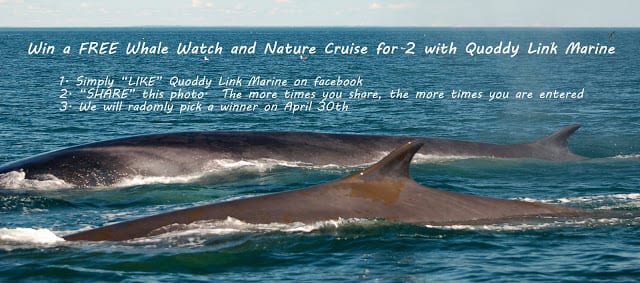 If you are not on facebook, don't worry, I am thinking of having a contest that is just for blog readers in the near future 😉
Cheers,
Danielle