Hello everyone, WOW, what another incredible day on the water.
Our 10 :00 am trip started with a great sighting of a pair of finback whales and then John took us offshore to search for a humpback, or maybe even the right whale we saw on yesterday mornings trip. We found EKG, a juvenile humpback, but the fog quickly closed in. We made our way back towards the inshore waters and John spotted another whale not too far from the Northern tip of Campobello Island, and it turned out to be another humpback! I did get a fluke shot but I don't recognize this young whale so I'm hoping Provincetown Center for Coastal Studies will be able to help us with an ID.
Below are 2 photos of our newest humpback whale. In the second photo the young whale was playing in the tide line, seaweed (as well as a bunch of things) collects where 2 different tidal currents pass and sometimes whales will "play".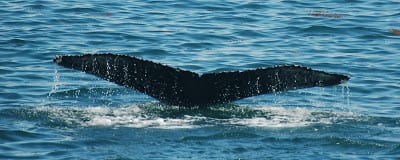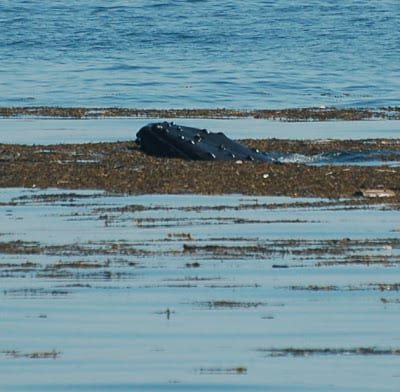 Our afternoon and evening trips were 2 very special departures. We were able to spend time with 3 individual North Atlantic right whales on each departure, a adult male and a mom/calf pair. On our way out for our afternoon trip we got word of the mom/calf pair and when we arrived in the area John quickly noticed the number of boats…an easy descision, we did not stop and started to make our way offshore in search of humpbacks with plans to stop on our way back as the traffic thinned out. Within 2 minutes of heading offshore John spotted another right whale! This single turned out to be NARW# 1124 named Tips (ID'ed by the Lubec field team from the New England Aquarium), the same right whale we saw yesterday morning. Tips is an adult male of unknown age who was first sighted in the Bay of Fundy in 1980! We were also able to get some looks at the cow/calf pair on our way back home. The female, the mom, was ID'ed as NARW# 2791, an adult of unknown age who was first seen in the Bay of Fundy in 1997.
Here you can see the V-shaped blow of Tips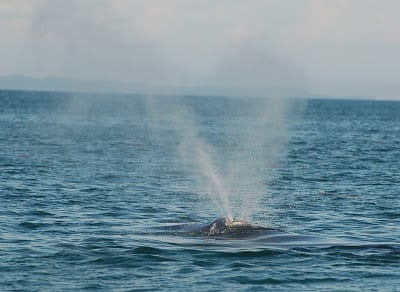 The callosity pattern (roughened patches of skin) of Tips, every right whale is unique.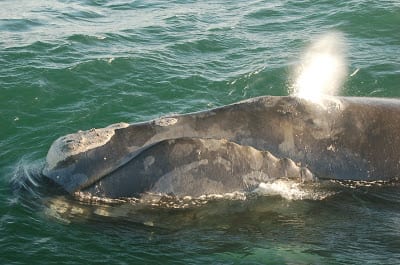 Our evening departure was similar to the afternoon, we made our way out and saw there was a number of boats around the cow/calf pair and we could see the single right whale blowing (right whales have a very distict V-shaped blow) about a mile away. We made our way over there and spent about 30 minutes with Tips as he circled the boat and approached us so closely many times. It was an incredible experience. After we left Tips (it wasn't easy because he continued to surface close to us) we we able to spend a little time with the mom and her calf. The calf was contantly touching mom, rolling over and putting her pectoral flipper on moms head. The calf would place "her" head on "her" moms….again…it was AMAZING!
This is the cow/calf pair on the 2:00 pm departure, the calf is closer to us and the mom is fluking.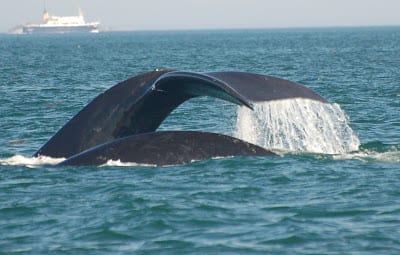 The calf is putting "her" head on "her" moms head…so sweet!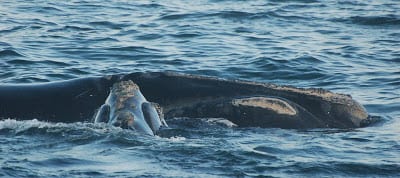 Below is a a few video clips put together from our 5:30 pm departure, ENJOY!
These trips were very special and I know I have mentioned this before that every trip is different and the species of whales that we see from trip to trip can vary. Right whales are usually seen about 30-35 miles from St. Andrews so to have these whales so close to home is incredble….to be able to share with our passengers but there is a lot of boat traffic in the inshore area so hopefully these whales will make their way further offshore, for their own safety.
If you want to learn more about the right whales we saw today, their sighting histories and detailed callosity markings visit the North Atlantic Right Whale Catalog.
Thanks so much for checking in today!
Cheers,
Danielle