Hello everyone, what a great day we had!
With calm seas and 2 hours left in the flood tide we decided to head offshore in the morning to search for humpbacks (there have been some reports from the Grand Manan ferry). We didn't have to search for very long and about 17 nm from St. Andrews we found EKG, a humpback whale we have been watching since 2006. Quoddy Link first photographed EKG in 2006 and "he" was identified as an "unknown", a whale never seen as a calf and not a member of the North Atlantic Humpback Whale Catalogue. I'm 99.9% sure of the ID but I have photographs into the Provincetown Center for Coastal Studies just to be sure. EKG was sighted earlier in the season by the follks over at Brier Island Whale and Seabird Cruises. On our way back home we spent some time with 2 fin whales traveling side-by-side behind Nubble Island. Our 10:00 am departure was also our first "hat trick" of the season, a trip where we see all 3 species of whales commonly found in our part of the Bay of Fundy.
Below are some pictures of EKG from our 10:00 am trip.
Note the upturned fluke tips of EKG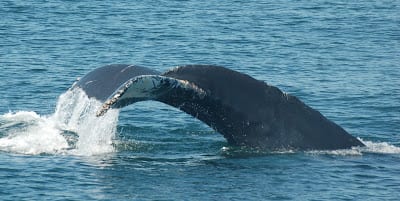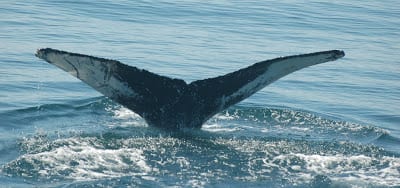 You can see the long pectoral flippers way out to the side as EKG does a terminal dive.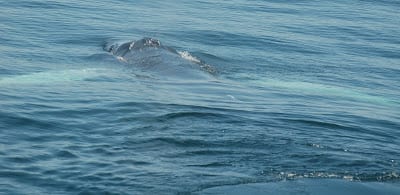 Our afternoon trip took us off L'etete where we had a finback whale but with too many boats John decided to leave and search elsewhere (this is one of the many reasons I am proud to work for Quoddy Link, the respect that John shows these whales on a daily basis is awesome). We ended up off the entrance to Head Harbour Passage with 2 finback whales and then spent some time off Casco Bay Island with a very young minke whale.
Our evening trip started off at the entrance to Head Harbour with a minke and 2 finback whales traveling together but again with too many boats John started to leave (with plans to return after the traffic cleared) when we got a call from the Grand Manan ferry that there were 2 humpback whales only 5 miles from us off the Wolves. We immediatley made our way offshore and were so happy to see EKG traveling with another humpback (most likely Cork based on her dorsal fin (photo below) but she never raised her tail). Another hat trick on the 5:30 trip!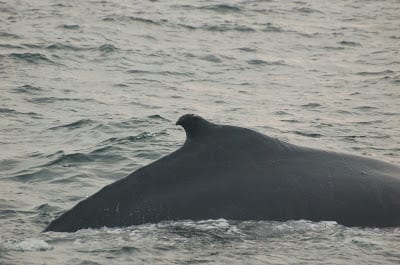 What a great day! We will have to see what the next few days bring…there is some serious weather in the forecast.
Thanks for checking in today,
Cheers,
Danielle