Hey there everyone, I'm going to keep this one short, I just got home from a long day on the water and tomorrow looks to be the same so it's time for me to go to bed.
We have been seeing both minke and fin whales the past few days. Yesterday we canceled all of our departures due to high winds and today there was a little weather to deal with but we were able to get on the water on 2 trips.
We have searched the offshore area a few days ago and still no signs of humpback whales but we are looking and keeping in contact with the folks on Grand Manan.
Below is a photo of a large fin whale, taken on July 23rd off Blacks Harbour.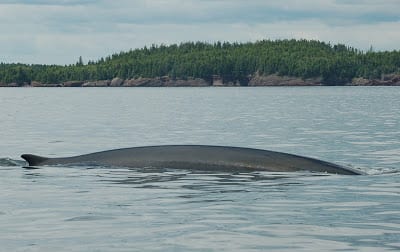 Thanks for checking in today,
Cheers,
Danielle