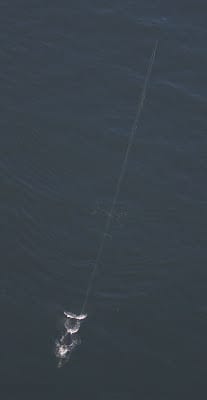 A North Atlantic right whale was sedated and disentangled this past week off the coast of Georgia (first sighted on January 14/09, successfully rescued on March 6/09)). This is the first time that researchers have used sedation in the wild and after some smaller does of the sedative they got the right amount to calm and slow the whale down so they could approach and cut the ropes. The full story can be read on CNN and there is video and more photos as well.
This is a first for whale rescuers and is a major step in helping the critically endangered North Atlantic right whale. One of the greatest threats to the right whale is entanglement and there have been an alarming number of cases this past winter.
In this photo, the dart containing second dose of sedative has just been deployed. float designed to remove dart (by creating drag in water) is visible just off the vessel's port bow.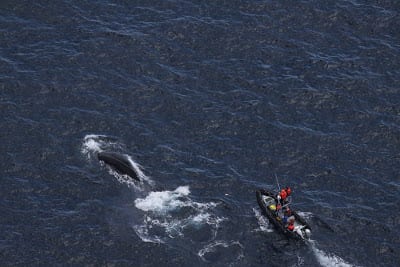 Disentanglement team cuts rope tightly wrapped over the whale's head. Cut releases ~ 150 feet of rope.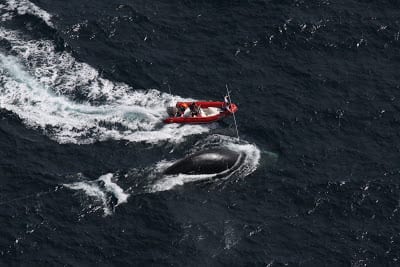 Approximately 230 feet of rope was just removed from the whale by the disentanglement team and the disentanglement team is floating around the rescue vessel.

On a very positive note, as of February 10th, 31 mother/calf were reported from the Southern United States caving grounds! The calf numbers are tied with the 2001 season for the highest number of mother/calf pairs!
Thanks for checking in and check back soon, in a few weeks I will have some new names to our 6 humpbacks from the past season!