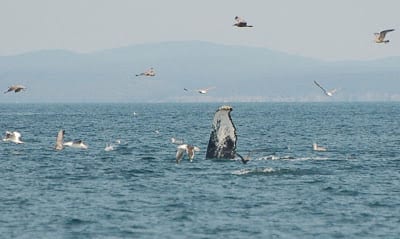 Hello again, it's Danielle with Quoddy Link Marine back from another great day on the water. Our morning took us offshore where we located 2 large fin whales in the Grand Manan Chanel but we were looking for humpback whales so we made our way towards The Wolves and we located Cork, a 6 year old female humpback. We got some great looks at her and the photo on the left is showing her, on her side, as she made her way through a large amount of feed, most likely herring. She also brought her pectoral flipper out of the water but I missed that in the photo.
Our afternoon trip took us directly back offshore, and with word from
Fundy Tide Runners
, a fellow whale watching company out of St. Andrews that there was 2 finback and 2 humpbacks we made our way straight out. When we arrived we quickly ID'ed one of the humpbacks as Cork, the same humpback from the AM charter. As we got a look at the second humpback we quickly noticed that we had another new humpback! This humpback was seen earlier this season by
Provincetown Center for Coastal Studies
during their survey of the Bay of Fundy. This humpback has yet to be matched in the catalogue so keep checking, I'll post info as I hear.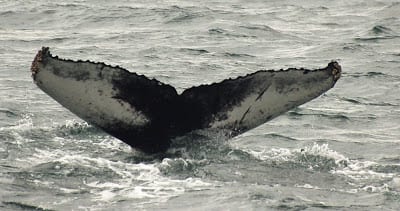 The bird sightings were also great today. I have included 2 photos from today. The top photo is of an immature northern gannet and the lower is an immature jaeger (note the herring in the jaeger's mouth…..which was stolen from a gull!!).
I have been in touch with Shelley from
Brier Island Whale & Seabird Cruises
and she provided me with a photo of Six (below), the mother of the young humpback we saw yesterday and the day before. Six was sighted in 1984 and the little humpback we have been seeing is her 5th known calf! Thank You Shelley for your help! I also want to mention that the folks on the Brier Island side had a very special sighting yesterday, an Orca was spotted in the Bay of Fundy!!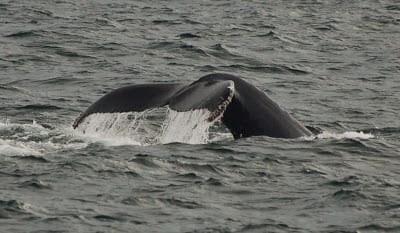 Thanks for checking in today! I'll keep you posted when I hear more about the humpback we sighted today. If it turns out to be a new individual we are going to have to think of a name suggestion for this one as well!