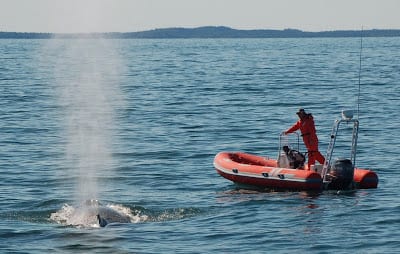 Hello everyone, it's Danielle with Quoddy Link Marine back from a fabulous day on the water. Today was the first in a few days without strong winds so we took advantage of that and Matt went out on our Scout Boat to see if he could find the humpbacks we have been seeing in the offshore area. With a call from Matt at about 2:30 that he had not 1 but 2 humpbacks and 5 fin whales not too far from Southern Wolf we made our way directly offshore. From over a mile away our passengers could see the strong blows of the fin whales travelling side by side. We did get a chance to get a great look at the fin whales a little later in the trip but the first whale we spent some time with was Cork, a 6 year old humpback whale we have become very fond of here at Quoddy Link. We had 2 very close encounters with her, check out the video and photo below!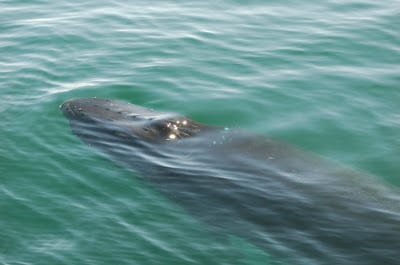 This is Cork. Her name comes from the black mark on the right hand side of her fluke that resembles a wine cork (also looks like a cartoon drawing of a mushroom cap that would be on a pizza).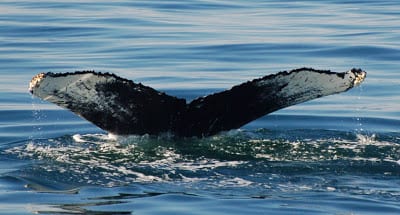 We knew there was another humpback whale in the area, and we assumed it was Mustache but when we got a closer look we knew instantly, by the small size and the shape of the dorsal fin that this was a new humpback whale! These photos have been sent to Provincetown Center for Coastal Studies and I hope to hear soon who this little humpback is. I'll keep you posted!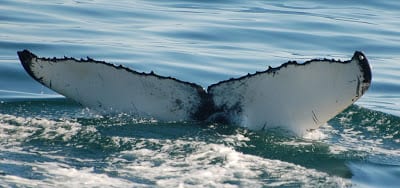 I wanted to include this photo I took the other day of some young gulls feasting on and fighting over small herring. The gull on the left has a herring in its mouth.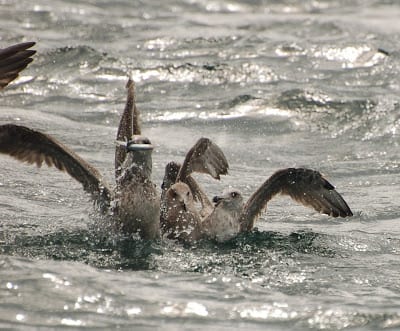 Thanks so much for checking in today. I'll post the info on the ID of our new humpback when I hear back from the folks at PCCS. Cheers!