Good evening all, it's Danielle with Quoddy Link! I wanted to share with you how our day was, I'm sorry I don't have any photos to show you from today's departures, today was one of the days I just decided to watch with my eyes as opposed to through my view finder of my Nikon DSLR.
St. Andrews was greeted this morning with Bay of Fundy fog but it did burn off in amongst the islands in time for our 2:00pm departure. We were able to spend quality time with the minke whale we have been watching the past few days. On our way out we stopped to show our passengers the Old Sow, a tidal whirlpool, the largest in the Western Hemisphere! The Old Sow is created due to the way the currents and tide flows around the corners of Deer and Moose Island and is funneled into Western Passage. We actually had a few passengers who mentioned that the Old Sow was the highlight of their trip, not the minke whale!! The photo is from The Old Sow Whirlpool Survivors' Association (© 1995 Old Sow Publishing). For our passengers you can order a certificate to commemorate your experience surviving the Old Sow! Visit
www.quoddyloop.com/oldsow/oldsowsurvivors.htm
for more information.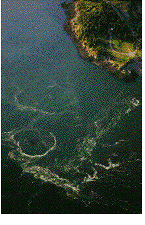 Our evening trip took us off East Quoddy Head Light with the same minke whale. We followed "him" up to Nancy's Head then on our way back towards the Light John saw a blow, and after the 2nd blow confirmed his suspicions he announced that they found a finback whale! Finback whales are the second largest animals on our planet reaching over 80 feet and 180,000 lbs! This is our 3rd fin whale sighting and we hope it is a sign of things to come.
Thanks for checking in today! Cheers.