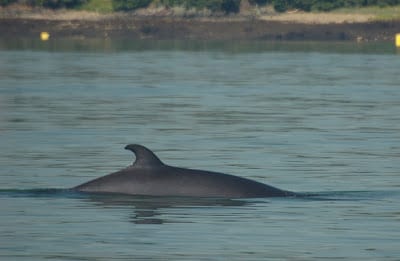 Hello everyone, it's Danielle with Quoddy Link back from a lovely day on the water. We have spent the past few days with a very special minke whale in and around Head Harbour Passage. This minke has continually been an absolute pleasure to watch. We have been out looking offshore, into the open Bay of Fundy, for larger whales but with no luck yet. Our Scout Boat has been out looking and covered virtually our entire 25 nm radius. We always say "You have to look", you never know what could be out there until you make the effort and have a look. And that is what we will continue to do until our larger whales, finbacks and humpbacks, arrive in our part of the Bay of Fundy! I will keep you posted.
An island we do like to visit early in the season is Whitehorse Island. This rocky island is a nesting site for a variety of seabirds including herring gulls, greater b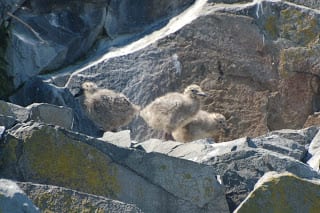 lack back gulls, black guillemots, double-crested cormorants and the odd year there may be a nesting pair off northern gannets or even Atlantic puffins! Pictured here are three young herring gulls obviously not quite ready to leave their nest on Whitehorse.
I thought I would leave you with a picture of some grey seals (both male and female) and a newly weaned harbour seal. Thanks for checking in today. Cheers.