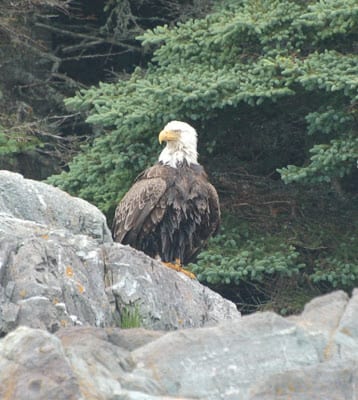 Hello everyone, it's Danielle with Quoddy Link Marine. I first want to send out a Happy Canada Day to all of our Canadian readers! I hope that everyone was able to relax and do whatever makes them most happy!
We had a great Canada Day here in St. Andrews, a little bit of rain (which the passengers on our 2:00pm departure missed because they were out among the West Isles watching a minke whale!). We have been having some classic Bay of Fundy Fog here which has not allowed us to venture offshore in search of larger whales but as the day warms up the land and a warm breeze helps to dry out the fog we can get out into Head Harbour Passage and look for minke whales and that is exactly what we have been doing! Our other sightings, including seals, porpoise and bald eagles have been great. Today we had a fantastic grey seal sighting (my first of the season). These large seals can easily be distinguished from the smaller harbour seal by the horse-like shape of their head.
Below I have included a small clip of our touch tank which we bring out on our run home across Passamaquoddy Bay. Joline and I are showing our passengers just a few of the animals we bring along (here you can see a sea cucumber, sea urchin and a hermit crab).
I am keeping my fingers crossed that the next few days will bring some clearer weather. I will keep you posted!