Hello everyone, it's Danielle with Quoddy Link Marine back from a great fall day on the Bay of Fundy. We left for our 1:30 departure and headed out into the Grand Manan Channel where we found 3 fin whales. It was great to spend some time wit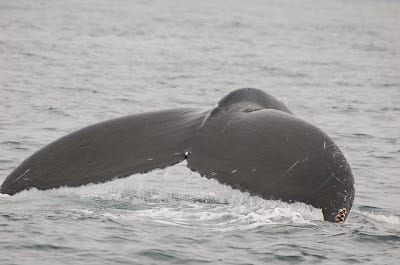 h these enormous whales but at the same time we were wondering where our humpbacks were. So John, our owner and captain, decided to run us off towards the Wolves, an archipelago of islands in the open Bay of Fundy. As we were approaching we saw a blow and quickly saw it was a humpback but when we arrived I was so happy with who I saw….it was Arrowhead, a humpback we saw for the first time last week! Arrowhead was first sighted in 1976 which puts him at at least 31 years old! And he is BIG! Below is a photograph I took today of his fluke.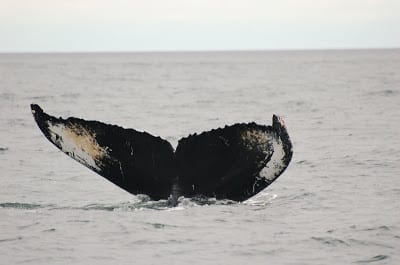 I've left you with a photo below of Arrowhead, that is Campobello Island way in the background. Our season is quickly coming to a close with our last scheduled whale watch on October 14th at 1:30 pm so come and join us and experience the Bay of Fundy….Catamaran style!