Hello everyone, it's Danielle with Quoddy Link Marine with an update from today's whale watch. It was a breezy fall day but with a well educated guess on where to start our search and some luck we found Cork (below), a 5 year old female humpback whale around the Owen Basin this afternoon. We also found a large fin whale but it was difficult to get a good look with the 4-5 foot breaking sea.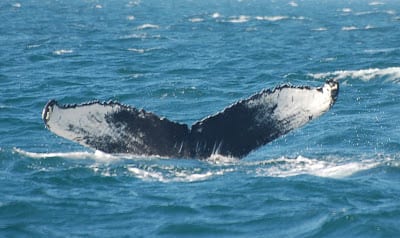 On our way back to St. Andrews we stopped at a familiar herring weir (a fish trap for wild herring) off the northern tip of Campobello Island, NB and found a very small minke whale trapped inside. We had heard reports of the little one and were not surprised to see him still there. Large whale rescue has been informed and they are monitoring the situation but it is not a life threatening place for a minke whale to be (there is lots of herring to eat inside!). A close eye will be kept on the minke whale and if he doesn't swim out very soon the net surrounding the weir will be lowered at high tide and whale rescue will be called to the scene.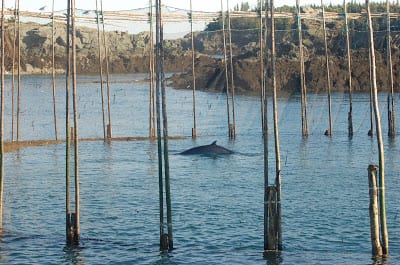 Thanks so much for checking in today and keep checking for the last of our updates as our 2007 season is nearing the end!