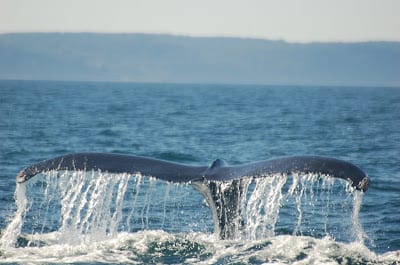 Hello everyone! Well, what a pleasant surprise it was this morning to turn the corner at Parker Island and see the open Bay of Fundy ahead of us….FOG FREE! What a great day we had on the water today. Matt left on our Scout Boat at around 8:30 am to search the offshore area for humpbacks. We headed out at 10:00 am and found 4 finback whales (2 travelling together) just off Whitehorse Island. The picture below was taken this morning, the houses in the background are on Deer Island, NB. We spent about 40 minutes with the finback whales then made our way over to another pair of finbacks closer to the Wolves, an archipelago of islands in the open Bay of Fundy. John, our owner and captain, wanted to be closer to the offshore area just in case we got a call from Matt on our Scout Boat that he spotted humpback whales. That call came around 11:30 am and we made our way another 7 miles out into the open Bay were we found Cork, our "little" 5 year old female humpback we have become quite fond of at Quoddy Link. At 35-40 feet and probably over 40,000 lbs she is ANYTHING but little but she still has a lot of growing to do until she reaches her full size! After spending some time with Cork we had to make our way back to St. Andrews, making sure to stop with some seals and a bald eagle along the way.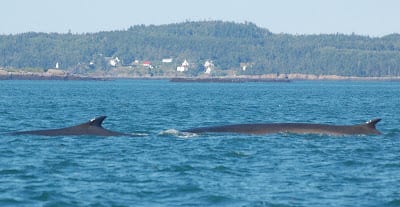 On our 2:00 pm departure we headed directly offshore towards Matt on our Scout Boat who was watching Cork for us. She was staying down for 5 minutes between dives and surfacing very close to where she went down every time making her incredibly easy to watch. As we were making our way back home we saw a finback and minke whale off the entrance to Head Harbour Passage. While offshore we saw many seabirds as well and below is a photograph of a greater shearwater. These unique birds fly very close to the surface of the water and, as you can see, they have to take a running start to get up in the air.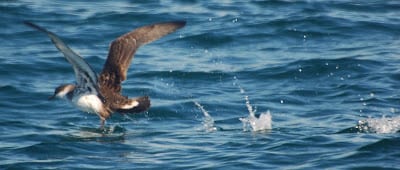 Thanks so much for checking in today, the winds are suppose to drop out tomorrow. I'll keep you updated on all of our sightings. I'm leaving you with a terminal dive from Cork taken on this afternoons trip.