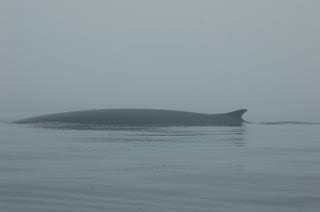 Hello everyone, it's Danielle with Quoddy Link back after a great day on the water, even with the crazy Fundy Fog! Today we saw the fog move in and out so many times, on some parts of our trips we had no more 200 feet of visibility and then 5 minutes later we could see 2 miles in every direction. It really proves how quickly the weather can change on the Bay of Fundy.
We were able to see Finback whales on all 3 departures today, and great sightings on each and every one. Our 10:00 am trip was a foggy one but, with exceptionally calm seas, we were able to stop, shut our engines down and listen for the whales and we got many close encounters.
On both our 2:00 and 5:30 departures we were able to find some nice holes in the fog to view finback whales. The photo below is from our afternoon trip.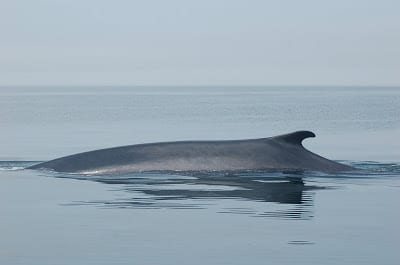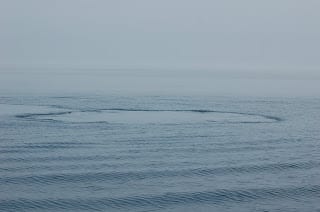 I also wanted to share this photo of a whale "footprint". This smooth, circular patch of water is caused by a whales' fluke (or tail) moving up and down just under the surface of the water. This "footprint" shows us where the whale was last, just as your footprints would in the sand or snow. These footprints can be very useful when looking for whales in the fog.
Thank You for checking in today. Tomorrow is another day…we can only hope for less fog and more great whale sightings. I'll keep you all posted.