Hello everyone, it's Danielle back from a day of rest (and grocery shopping). The whales in our part of the Bay of Fundy continue to be fantastic. Both yesterday and today we saw finback whales on all 3 trips! They are still found consistently off the entrance to Head Harbour Passage and yesterday they were right up inside the passage off Casco Bay Island.
Below is a photo of 2 finback whales directly off East Quoddy Head Light on the northern tip of Campobello Island, NB. This is the entrance to Head Harbour Passage, a waterway that is at the heart of the fight to stop LNG tankards from entering Passamaquoddy Bay. We do what we can by documenting all of our whale sightings with photographs as well as recording lat/long data.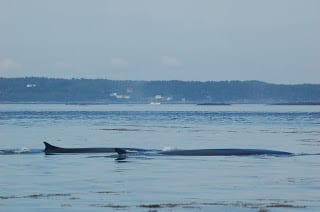 Here you can see 2 finback whales travelling together (there we 5 travelling in a herd). In the background is Deer Island, NB.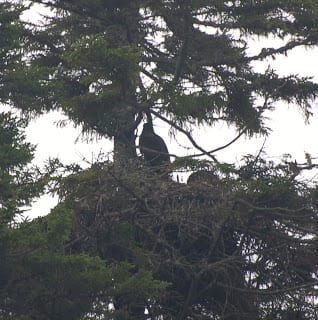 This is a bald eagles nest that we have the opportunity to visit on some of our departures. Here you can see 2 immature eagles in the nest, one silhouetted against the sky, the other is to the right, hunched over.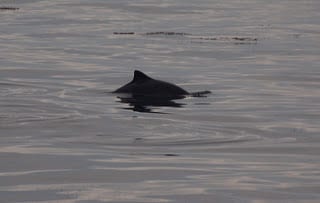 Harbour porpoise are a common sighting on all of our departures. You have to keep your eyes on the water to see them and don't get to frustrated if you can't manage to capture them on camera cause they are quite quick and unpredictable.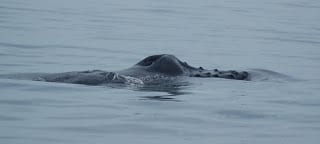 Yesterday we also had the chance to spend some time with both Hobo (pictured below) and
Cork, 2 humpback whales we have become quite fond of here at Quoddy Link Marine. John was out on our Scout Boat today and located Cork in the Grand Manan Channel but the weather turned and the fog rolled on in and he was unable to keep track of her.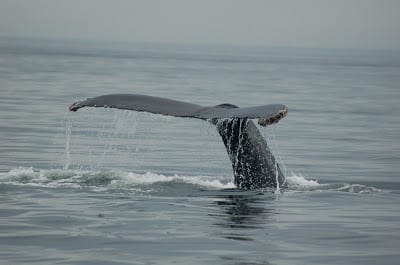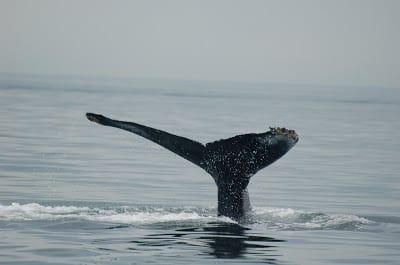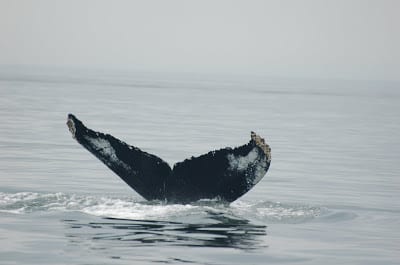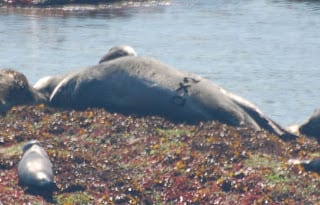 For those of you who follow the blog on a regular basis I wanted to share that I got the grey seal identified that we saw on July 22nd with a brand mark on his back. He was born on Sable Island (160 km southeast of Canso, Nova Scotia) on December 30, 1997 and weaned on January 19, 1998 at 63.5 kg and 120cm. Also, he has been sighted in the breeding colony on Sable Island on January 26, 2005. Thanks to Mike Hammill (IML) and Don Bowen and Jim McMillan (BIO) for their help in identifying this seal.
Thanks for checking in, they weather man is calling for fog tomorrow…..I'll keep you posted.