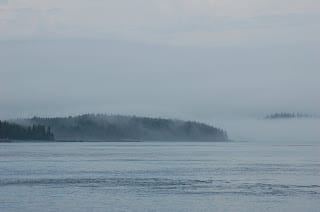 Hello everyone, it's Danielle with Quoddy Link Marine. The fog has arrived in St. Andrews and we are all hoping it won't stick around too long. We were stranded in port yesterday because of the poor weather (wind and fog) and our 10:00 departure was cancelled this morning as well. As 1:00 pm rolled around today the fog began to lift in the harbour and we sent our Scout Boat out to check on the conditions and help us on our search for whales for our 2:00 pm departure. With the help of Matt on our Scout Boat we were able to locate a VERY co-operative minke whale off Windmill Point, Campobello Island. We spent about 45 minutes with the whale while we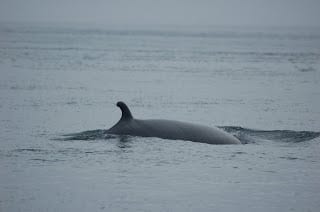 travelled with "her" towards the mouth of Head Harbour Passage. You can see "her" picture on the left. She continually surfaced quite close to the boat, switching sides quite often. And, to the delight of our passengers, we were able to smell her breath! Minke whales are known to have quite a strong odor to their exhale or "blow" and are affectionately known as "Stinky Minke".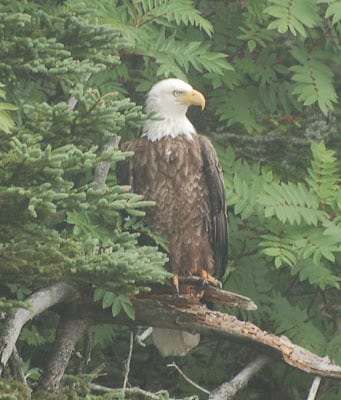 On our way back to St. Andrews we were treated with a fantastic bald eagle sighting on Nubble Island. This noble bird of prey is very numerous among the West Isles and is a common sight on our trips.
The fog is forecasted to lift tomorrow and I will make sure to keep you posted on all of our sightings. Thanks for checking in.