Hello everyone, it's Danielle with Quoddy Link Marine back in St. Andrews. I'm very sorry for the lack of posts but I am back with a long overdue update. The 2007 season officially started on Saturday, June 23rd and all week we have had a 100% success rate with whales!! To make things even better we have had a few finback whales arrive earlier than usual. Finbacks, usually not arriving in our part of the Bay of Fundy until July, are the second largest whale, reaching over 75 feet and 180,000 lbs and their exhale, or "blow" is so loud it can be heard over a mile away! The photos below are from my first day on the water, Wednesday, June 27th.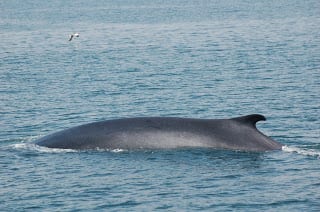 A finback whale sighted not far from Campobello Island, New Brunswick.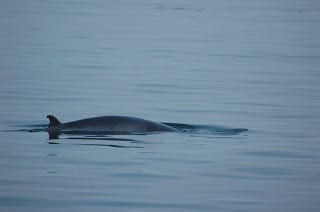 A minke whale, in the same family as the finback, Balaenopteridae. A very sleek and fast whale reaching 25-30 feet in length and 20,000 lbs.
Thanks for checking our updates, the 2007 season is off to a fantastic beginning. Keep checking daily for more updates.