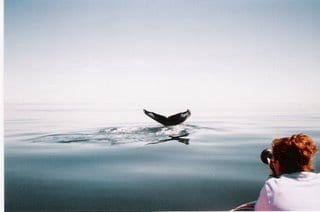 Hi there, my name is Danielle Dion, senior naturalist and photographer with Quoddy Link Marine. That's me on our Scout Boat photographing Hobo, a humpback whale (photo taken by Isabelle Coultier). I just wanted to let you know how I've been keeping myself busy until the season starts on June 25th. There were some humpbacks and a special finback from the 2005 season I wanted to identify and with the help of Center for Coastal Studies in Provincetown, MA and Allied Whale in Bar Harbor, ME, most of the mysteries were solved. Here's some of the whales that we saw last year…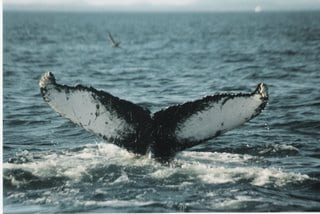 This is Parachute, a humpback we saw in 2004 and 2005. Humpbacks are most commonly seen in our area from late August – October, but in 2005 we started seeing humpbacks in late July.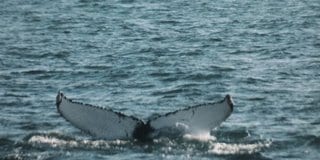 Quarternote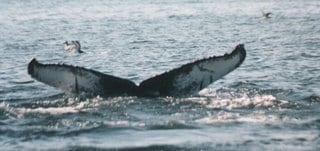 Diver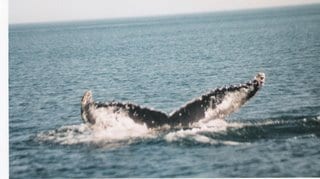 Trillium (the 2004 calf of Quote)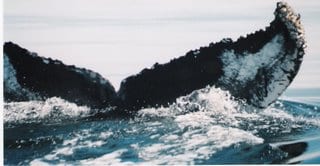 Hobo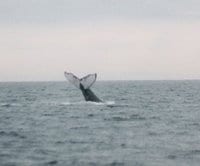 Downsweep (the 2004 calf of Clamp)
A finback, Raggedy. Finbacks are the second largest animal in the world, at lengths of up to 75 feet and weighing over 200,000 lbs. We usually watch finbacks from the beginning of July-October.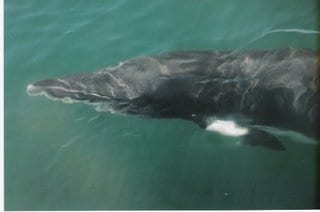 A close encounter with a minke whale. Minkes are the "smallest" whale we get in the Bay of Fundy at 25-30 feet and 20,000 lbs. Minkes are usually the first of the whales to arrive, showing up in June.
I also had the opportunity to attend the 2006 humpback whale naming conference in Provincetown, MA. Scientists and naturalists along the north Atlantic coast gather once a year to give names to re-sighted calves and previously un-named humpbacks. All humpbacks are given names based on the black and white patterns on the underside of their flukes (they are all different, as unique as a fingerprint, take a look at the pictures above and see if you can tell the difference between the 6 humpbacks). The grouped selected one of my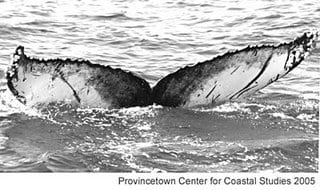 suggestions, so I got to name a
humpback whale. The name chosen was Mascara, have a look at the left side of the fluke on this image and see if you can guess why I suggested this name.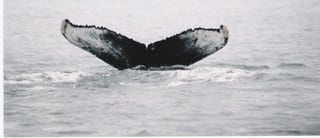 This is a humpback from our 2004 season. "He" got named at the 2006 whale naming event in Provincetown, MA. Meet Cork, the 2002 calf of Mica.
Next summer we'll be providing pictures and latitude/longitude data from humpbacks and finbacks to the Provincetown Center for Coastal Studies and Allied Whale. This is the first year we'll be a part of this important research and it's very exciting for us. By keeping a close eye on humpback and finback individuals, both of which are endangered, the scientists can get a better look at the population as a whole.
We look forward to seeing you in the summer. We start whale watching at the end of June. Come whale watching with Quoddy Link Marine and experience everything that the Bay of Fundy has to offer…Catamaran Style.